Brussels Airport Awaits Government Approval to Resume Flights
by
Temporary system `technically ready' to operate, airport says

No passenger flights seen from Zaventem until Friday evening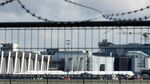 Brussels Airport said it is awaiting only government approval to resume passenger flights at about 20 percent of regular capacity as a temporary check-in system is "technically ready" to start operations.
"The final step for the restart is the formal political approval," the Zaventem-based airport said in a statement on Thursday. "In the meantime, it has been decided that there will be no passenger flights until Friday evening."
The fire services and the Belgian Civil Aviation Authority have given the go-ahead for the partial restart of passenger flights, while Belgian authorities have yet to take a formal decision on the restart date, the airport said.
Following the March 22 terrorist attacks that destroyed the check-in area, the airport has put in place the temporary arrangements to reopen the terminal at reduced capacity. The makeshift system will be able to process 800 passengers an hour compared with the normal 5,000. To restore the check-in area completely "could take months," according to Brussels Airport Chief Executive Officer Arnaud Feist.
Police continue the search for a third suspect in the airport attack, a man in a white jacket seen on surveillance-camera video walking next to the two bombers who blew themselves up in the March 22 assaults. A separate suicide blast about an hour later hit a downtown subway station in the Belgian capital. A total of 32 victims were killed in the twin attacks.
Before it's here, it's on the Bloomberg Terminal.
LEARN MORE