U.S. Stocks Pare Quarterly Climb as Bonds Jump; Dollar Retreats
by and
Mining shares snap S&P 500's three-day climb as oil slips

Greenback caps worst quarterly slump in more than 5 years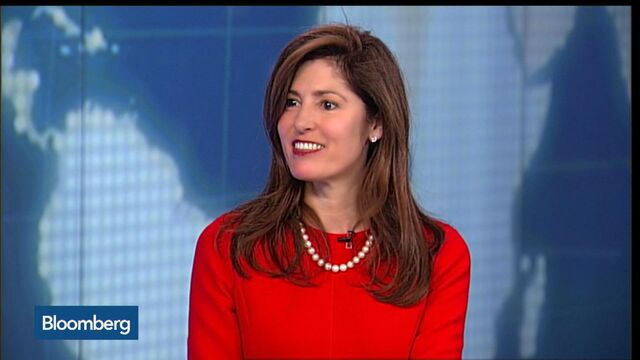 U.S. stocks fell as the March rebound that had global equities on the brink of erasing losses for 2016 faltered. The dollar capped its worst quarter in more than five years, while Treasuries rallied to send borrowing costs lower.
While the Standard & Poor's 500 Index's losses Thursday cut its rally in the quarter to 0.8 percent, it marked the first time since 1933 the gauge has capped a three-month increase after sliding more than 10 percent during the period. Emerging-market stocks added to their own quarterly advance as the Bloomberg Dollar Spot Index posted its worst month since 2010. Treasuries extended their steepest first-quarter gain since the financial crisis, while gold rose to add to its biggest three-month climb since 1986. Crude oil meandered.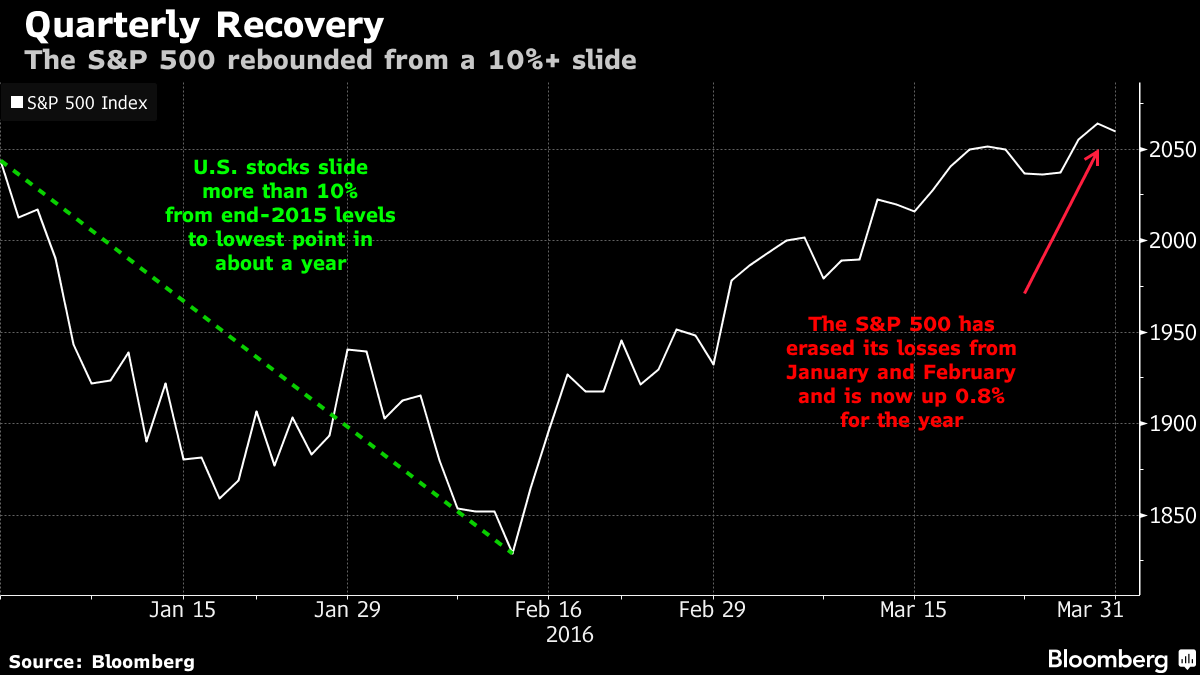 Global equities rose 7.2 percent in March, clawing back the losses incurred in the first two months of the year as policy makers around the world signaled they stood ready to bolster flagging growth. The reassertion of the central-bank safety net spurred demand for riskier assets following a six-week rout that punished equities, commodities and emerging-market currencies amid concern a slowdown in China would spread. Stock trading remained light Thursday ahead of jobs data in the U.S. that will refocus attention on the state of the world's largest economy as the second quarter gets under way.
"There's a lot of anticipation around tomorrow's jobs data," said Tim Ghriskey, who helps oversee $1.5 billion as managing director and chief investment officer at Solaris Asset Management in New York. "That's keeping investors from either taking new positions or selling existing ones, at least so far. Traders often take a wait-and-see approach if they've already positioned themselves."
Stocks
The S&P 500 slipped 0.2 percent to 2,059.74 as of 4 p.m in New York, ending March up 6.6 percent. The index coasted to the end of the three-month period defined by two distinct halves, with a blistering comeback in the last six weeks erasing losses from the worst-ever start to a year. 
After concern over slowing growth in China and a renewed rout in crude oil heightened investor anxiety into February, a gauge of market turbulence has since receded to its lowest level since August amid signs central banks have the market's back.
"Stocks have been stuck in no man's land for weeks now," said Ralf Zimmermann, a strategist at Bankhaus Lampe in Dusseldorf, Germany. "Investors need more economic growth and earnings upgrades and macro data still hasn't accelerated. We're bound to get high volatility and low returns in this maturing equity cycle."
Data Thursday showed that the number of applications for unemployment benefits in the U.S. climbed last week to a two-month high, a sign of more moderate progress in the labor market. Investors are waiting for Friday's non-farm payrolls data, so they can assess the strength of the world's biggest economy.
European shares posted their first monthly gain since November, though they didn't avoid a quarterly drop. The Stoxx 600 slid 1.1 percent Thursday. Since rebounding 14 percent in five weeks through March 14, the gauge's advance has stalled, leading to its 7.7 percent drop in the quarter.
After beating U.S. equities last year by the most in a decade, European stocks are now trailing them by the most since 2003. This quarter, analysts have slashed profit estimates and now forecasting declines for the year.
The MSCI Asia Pacific Index rose 0.1 percent in the session, while capping a 8.2 percent jump in March. The Topix index fell 0.7 percent in Tokyo.
Emerging Markets
The MSCI Emerging Markets Index added 0.3 percent, bringing its gain in March to 13 percent, the biggest monthly advance since October 2011. Brazilian stocks have performed the best worldwide globally in March, up 30 percent in dollar terms.
The Shanghai Composite Index added 0.1 percent Thursday, gaining 12 percent in March to pare losses for the year to 15 percent. Hong Kong's Hang Seng China Enterprises Index added 0.3 percent to enter a bull market.
A Bloomberg gauge of 20 developing-nation currencies rose 0.5 percent on Thursday, aiding its 6.2 percent increase in March. Brazil's real and Russia's ruble were the best performers, both advancing 11 percent.
Malaysia's currency has jumped 10 percent this quarter, its best such performance since 1973 amid crude's rally from an almost 13-year low. Malaysia is the Asian region's only major net exporter of oil. 
Currencies
Bloomberg's dollar gauge, which tracks the greenback against 10 major peers, slipped 0.1 percent for a fourth day of declines. The index lost 3.9 percent this month, its steepest drop since September 2010. The gauge also had its worst quarter since 2010.
"The dollar is overvalued, particularly against the major currencies, euro and yen," said Steven Saywell, BNP Paribas SA's global head of foreign-exchange strategy in London, in an interview on Bloomberg TV.
The yen, regarded as a haven investment along with gold and government debt, held steady at 112.57 per dollar.
Commodities
West Texas Intermediate crude oil for May delivery rose 2 cents to settle at $38.34 a barrel, while Brent rebounded 0.9 percent to $39.60. Both posted their first quarterly increases since 2015.
U.S. oil inventories expanded for a seventh week to 534.8 million barrels, according to a report from the Energy Information Administration Wednesday, while imports and production dropped.
Corn futures tumbled after a U.S. government report showed that farmers plan to sow 93.6 million acres of the crop in 2016, exceeding all analysts' estimates and boosting prospects for higher supplies after this year's harvest. Corn for May delivery fell 4.2 percent to $3.515 in Chicago.
Gold for immediate delivery added 0.6 percent to $1,232.75 an ounce, after sliding 1.4 percent last session, while copper and lead declined in London.
Bonds
Yields on 10-year U.S. Treasuries fell five basis points, or 0.05 percentage point, to 1.77 percent, and have plunged 50 basis points since the end of last year. Two-year yields dropped four basis points to 0.73 percent, the lowest level since Feb. 18. 
Germany's benchmark 10-year bond yields were little changed at 0.15 percent, down 48 basis points for the quarter, the most since 2011.
Bonds worldwide have earned about 3.2 percent over the past three months and added $2.1 trillion of market value, according to a Bank of America Merrill Lynch index that tracks securities ranging from corporate and government obligations to mortgage-backed debt.
Before it's here, it's on the Bloomberg Terminal.
LEARN MORE