$2 Billion Japan Fund Says Good Riddance to 'Dumb Money'
by and
Brian Heywood says Taiyo Pacific is beating Topix this year

Says Abe should cancel sales-levy increase, cut corporate tax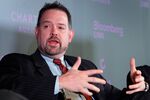 Brian Heywood, who oversees about $2 billion mostly in Japanese equities, is putting on a brave face as the market tumbles and many foreigners head for the exit.
The chief executive officer of Taiyo Pacific Partners LP says he welcomes the selling by overseas investors as it gives him a better chance to beat his benchmark. His logic is that many money managers invest indiscriminately in Tokyo, pushing up the entire Topix index and making stock-picking less effective. Heywood says his fund is outperforming the equity gauge this year, while declining to give details.
Foreign investors offloaded shares for 12 straight weeks, with net selling reaching a record earlier this month, as they lose faith in the Bank of Japan's monetary policy and Prime Minister Shinzo Abe's commitment to reviving the economy. The Topix is down 13 percent in 2016, and while Taiyo's biggest holdings have posted strong gains, many others have fallen.
"We don't do well when there is a flood of money into Japan, because it's dumb money," Heywood, 49, said in an interview during a visit to Tokyo last week. "When the market punctures, there are companies that we want to add to. The market overreacts. We know the company. We're at 3 percent and we'd like to be at 6 percent. We use it as an opportunity."

Heywood has spent his life attempting to change people's perceptions, talking up Japan's potential through years of economic funk while seeking to convince the nation's executives to rethink how they run their firms. He honed those skills when he lived in the country in the 1980s as a missionary trying to spread the Mormon faith. Later, he used them to get California Public Employees' Retirement System, or Calpers, to become his fund's first backer when it started in 2003.
Taiyo calls itself a friendly activist, seeking to influence management not through proxy fights but by working with them, almost as a consultant. The fund provides a "mini MBA" to executives that want to learn more about topics such as capital efficiency, and hosts an annual retreat for chief executive officers.
The fund tries to teach the 25 to 30 CEOs who attend the event each year something new about their own culture, Heywood says, to win their trust and show them the fund knows Japan. Past examples include learning how to make samurai swords and visiting a sumo-wrestling stable, he said.

Taiyo has stakes in almost 40 Japanese companies, according to Heywood. The company owns more than 5 percent of 22 firms, filings compiled by Bloomberg show, and counts Ulvac Inc., which makes industrial vacuum devices, and biopharmaceutical company PeptiDream Inc. as its biggest holdings by market value.
Ulvac climbed 8.9 percent this year through Wednesday while PeptiDream surged 83 percent. Other top picks, such as Horiba Ltd., Topcon Corp. and Miraca Holdings Inc., have slumped. Ulvac lost 1.7 percent on Thursday in Tokyo, while PeptiDream dropped 3.4 percent. The fund's assets under management have fallen from about $2.5 billion in May 2014.
Taiyo won recognition from a surprising source that year when the $1.2 trillion Government Pension Investment Fund hired it as an external money manager. That was part of Japan's push to improve corporate governance, which Heywood says is making steady progress.
Margins, Valuations
Valuations, the Harvard University graduate says, are another reason for optimism about Japan. The Topix, which more than doubled earlier in Abe's term, trades at 14.5 times estimated earnings, compared with 17.5 for the Standard & Poor's 500 Index. The Japanese gauge has dropped 20 percent from a peak in August, weighed down by everything from China's currency devaluation to falling oil and the BOJ's negative interest rates.
"Over the last several years, Japan's market grew more than almost any other equity market, and it's still one of the cheapest markets in the world," Heywood said. "It had margin expansion but it had valuation compression."
Heywood says his personal view is that Abe should postpone a sales-levy increase due for April 2017 and cut taxes on businesses and individuals. The premier said Tuesday that the best way to boost the economy is to quickly implement the existing budget for next fiscal year, rejecting speculation he would announce a supplementary spending package.
"We've got idiots from global institutions saying 'you have to raise the tax, you have to raise the tax.' I really wish that Abe-san would say 'you're all idiots,' " Heywood said. "If Japan would do a flat corporate tax of 20 percent and a personal tax of 20 percent, this economy would explode. Japan needs babies and it needs a lower tax rate. That's all he needs to do."
Whatever Abe decides, Taiyo will probably stay committed to Japan and focused on bringing out the positives at companies it owns.
"Japan has this raw energy and intellectual capital that is unlike any country in the world," Heywood said.
Before it's here, it's on the Bloomberg Terminal.
LEARN MORE