S&P 500 Closes at 2016 High After Dovish Remarks From Yellen
by and
Fed Chair says caution on rates warranted amid global risks

Apple, Microsoft pace rally in tech; commodity shares recover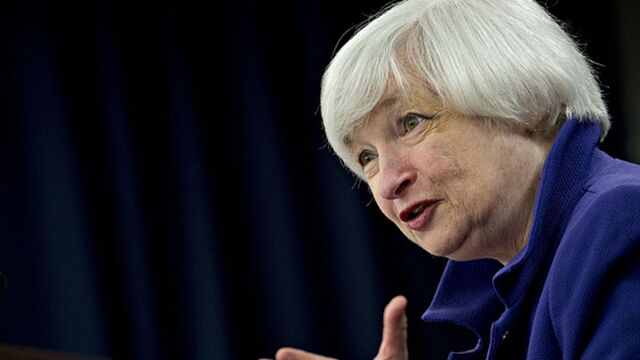 U.S. stocks rose, with the Standard & Poor's 500 Index posting a 2016 high, as Federal Reserve Chair Janet Yellen signaled the central bank will be cautious on further interest-rate increases in a nod to global risks.
Equities saw the strongest gains since the conclusion of the last Fed meeting, when policy makers reduced their outlook for rate increases this year, citing negative developments overseas. The dollar repeated a post-Fed selloff, helping commodity and industrial shares to reverse losses on speculation the weaker currency will buoy earnings.
The S&P 500 rose 0.9 percent to 2,055.01 at 4 p.m. in New York, the highest since Dec. 30. The Dow Jones Industrial Average added 97.72 points, or 0.6 percent, to 17,633.11, wiping out a drop of more than 100 points. The Nasdaq Composite Index increased 1.7 percent as Apple Inc. and Microsoft Corp. rallied more than 2.1 percent. The Russell 2000 Index of small caps jumped 2.7 percent, the most in two months.
"Yellen reiterated that the Fed will proceed cautiously, and the market is finding comfort in that," said Richard Sichel, chief investment officer at Philadelphia Trust Co., which oversees $2 billion. "There were no surprises, and surprises are what normally sends the market going the wrong way. Investors can now start to key in on some economic numbers, and then begin to look ahead to earnings."
In a speech to the Economic Club of New York, Yellen said it is appropriate for U.S. central bankers to "proceed cautiously" in raising rates because the global economy presents heightened risks. The speech made a strong case for running the economy hot to push away from the zero boundary for the Federal Open Market Committee's target rate.
Equities climbed even as crude retreated for a fourth day, paced by gains in technology, health-care and consumer shares. Stocks pared early declines after a March gauge of consumer confidence rebounded. A separate report today showed home values in 20 U.S. cities continued to climb in January. Reports are also due this week on employment and manufacturing.

The S&P 500 had rallied for five straight weeks, wiping out all of its 2016 losses, before a three-day slide at the end of last week in thin volume halted the streak and suggested the recovery may be running out of steam. The index posted daily moves of 0.1 percent or less in four of the prior five days, and has gone 11 sessions without a swing of at least 1 percent, the longest since June.
The benchmark equity index has climbed more than 12 percent from a 22-month low on Feb. 11, as surging crude prices and actions from central bankers calmed concerns that the global economy was headed for a deepening slowdown. The gauge has erased its 2016 decline and is on track for its biggest monthly advance since October.
"Yellen is communicating that the Fed is still one of the market's better friends, and the cost of borrowing and the cost of capital will stay low," said David Sowerby, a portfolio manager at Loomis Sayles & Co. "That's what's taken stocks anywhere from 11 to 15 percent higher from that Feb. 11 low."
The Chicago Board Options Exchange Volatility Index fell 9.3 percent Tuesday to 13.82, reversing an earlier 4.3 percent climb. The measure of market turbulence known as the VIX is headed toward its first monthly decline since October, which would snap the longest stretch of gains since 2011. About 7 billion shares traded hands on U.S. exchanges, 18 percent below this year's daily average.
Rate Bets
Amid data, Yellen's comments and the Fed's recently updated economic outlook, traders now price in no chance of a rate increase in April, while odds for June slid to 26 percent from 38 percent yesterday. The probability of higher borrowing costs doesn't rise above 50 percent until November.
The approach of first-quarter earnings season did little to dent investor sentiment Tuesday, even as analysts forecast profits at S&P 500 companies fell 9.3 percent. That compares with a 4.5 percent drop predicted two months ago. Alcoa Inc. unofficially kicks off the reporting period on April 11.
All of the S&P 500's 10 main industries increased, with technology shares rising 1.6 percent while health-care, utilities and phone companies added more than 1.1 percent. Financial stocks increased 0.2 percent as real-estate firms rallied to the highest in almost a year, offsetting the drop in banks.
Apple Climbs
Apple climbed 2.4 percent to the highest since Dec. 29 after the U.S. government dropped its case to gain access to a terrorist's iPhone, saying in a court filing Monday that it has now successfully accessed the data it sought. Facebook Inc. increased 2.2 percent to a record.
Drugmakers contributed the most to the rally in health-care, with Bristol-Myers Squibb Co. gaining 2.3 percent and AbbVie Inc. adding 1.7 percent. The Nasdaq Biotechnology Index increased 1.7 percent after falling 1.3 percent on Monday.
A group of retailers rose for a fourth day to help lift consumer discretionary shares after the stronger confidence data. Netflix Inc. and Amazon.com Inc. climbed more than 2.4 percent. Priceline Group Inc. added 1.6 percent. The so-called FANG stocks -- Facebook, Amazon, Netflix and Google Parent Alphabet Inc. -- together rose the most in four weeks.
Commodity shares reversed declines as the dollar tumbled on Yellen's comments, lifting energy and raw-material producers despite a 2.8 percent drop in crude oil. Southwestern Energy Co. and Williams Cos. gained more than 3.7 percent. Newmont Mining Corp. surged 4.9 percent, and Freeport-McMoRan Inc. wiped out a 7.2 percent drop.
Banks in the S&P 500 sank, with the yield on the 10-Year U.S. Treasury at a four-week low, amid speculation that persistently low rates will weigh on profits. Bank of America Corp. fell 1.5 percent after losing as much as 2.6 percent. Wells Fargo & Co. declined 1.3 percent, extending a losing streak to five days, the longest since Feb. 11.
Before it's here, it's on the Bloomberg Terminal.
LEARN MORE