The Eight-Justice Supreme Court Strikes Again
A one-sentence non-decision on the First Amendment and the power of public unions frames the debate raging over Scalia's successor.
by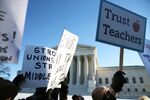 In its latest deadlock of the post-Scalia era, the Supreme Court split 4-4 on an issue of vital importance to public-employee unions and their foes. In its inaction, the high court left in place one of its own key pro-union precedents and, more broadly, highlighted the stakes surrounding President Obama's pending nomination to replace Justice Antonin Scalia, who died in February.
Some Supreme Court observers were disappointed by today's irresolution. "The most important labor union controversy to reach the Supreme Court in years sputtered to an end on Tuesday, with a 4-4 split, no explanation, and nothing settled definitely," veteran court analyst Lyle Denniston wrote on Scotusblog. 
That's all true. Without any elaboration, the justices issued a one-sentence opinion that left intact a 1977 ruling that said public-sector employees may be forced to pay for collective bargaining representation, as long as they don't have to cover the costs of political or ideological union activities. An even split upholds the lower court ruling without setting a national precedent.
"The U.S. Supreme Court today rejected a political ploy to silence public employees like teachers, school bus drivers, cafeteria workers, higher education faculty and other educators to work together to shape their profession," National Education Association President Lily Eskelsen García said in a statement reacting to the non-ruling in Friedrichs v. California Teachers Association.
Had Scalia still been on the bench, he almost certainly would have voted with other conservatives to reduce union influence in the name of protecting the First Amendment right of non-member workers to refrain from supporting officially designated labor representatives. Likewise, were Obama's choice to succeed Scalia, Judge Merrick Garland, participating in the case, it's likely the cautious moderate would have joined the liberal wing to preserve the 1977 precedent.
Today's deadlock is the second since Scalia's death, which created a vacancy that Republican leaders in the Senate vow to keep open at least through the November presidential election by refusing to consider the Garland nomination. In the first, the shorthanded court deadlocked in a Missouri dispute involving discrimination under a federal equal-credit law.
Lawyers who organized the anti-union challenge to the nearly 40-year-old precedent immediately said they would ask the Supreme Court to reconsider the case during its next nine-month term, beginning in October. By the time the case came up for reargument, a ninth justice could be confirmed and have ascended to the top bench.
As a virtually silent high court communicated today, the identity of that ninth justice will have a profound effect on the outcome of prominent social and economic disputes.   
Before it's here, it's on the Bloomberg Terminal.
LEARN MORE