The Eight-Justice Supreme Court Strikes Again
A one-sentence non-decision on the First Amendment and the power of public unions frames the debate raging over Scalia's successor.
By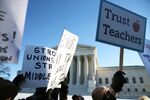 In its latest deadlock of the post-Scalia era, the Supreme Court split 4-4 on an issue of vital importance to public-employee unions and their foes. In its inaction, the high court left in place one of its own key pro-union precedents and, more broadly, highlighted the stakes surrounding President Obama's pending nomination to replace Justice Antonin Scalia, who died in February.