OECD's Gurria Calls for Demand-Side Measures to Spur Inflation
by
OECD Secretary General Gurria speaks on Bloomberg Television

Central banks using unconventional measures to boost prices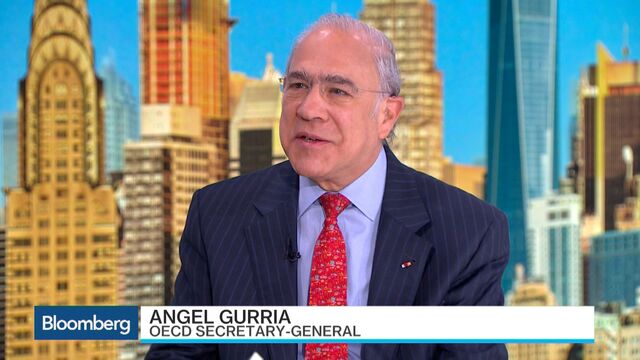 A shift away from supply-side measures toward those that foster demand is needed to better address global worries about deflation, the Organization for Economic Cooperation and Development's secretary general said.
"A lack of demand means you have to do something on the other side -- we've been focusing on the supply side for many years," Angel Gurria said in an interview with Tom Keene and Francine Lacqua on Bloomberg Surveillance on Tuesday. "We should be worried about deflation."
While a barrage of monetary stimulus in recent weeks helped reverse a financial market slump, it has done little to spur expectations of a sustainable acceleration in economic output. International Monetary Fund officials have said they expect to downgrade their assessment of this year's outlook and have urged policy makers to do whatever they can to spur growth.
The OECD forecasts global growth of 3 percent this year, Gurria said.
"Investment is about half the speed it should be growing because of uncertainties and regulatory issues, and ultimately because of the financial side -- credit is not flowing," he said, adding that structural reforms were needed to boost growth. "We're not forecasting a recession, we're just saying conditions are tough."
Negative Rates
Within the euro area, European Central Bank interest-rate cuts and bond purchases have so far failed to push inflation back to the institution's goal of just under 2 percent. The U.S. Federal Reserve has scaled back the number of rate increases it expects to carry out this year, and has noted the risks posed by global economic and financial developments.
Instead, concerns have emerged among economists that sub-zero rates and quantitative-easing programs may have unintended, negative side effects and that central banks -- Gurria's "heroes of the last few years" -- are running out of policy options even as growth disappoints.
"We've run out of those easy fixes," Gurria said. "Now we have to think medium and long term," and go for "fundamentals again."
Before it's here, it's on the Bloomberg Terminal.
LEARN MORE