Hen's-Eye View of Drug Use in the Fastest-Growing Chicken Market
by and
Chicken companies suggest adding critical antibiotics to water

Drugs banned in the U.S. for poultry are used on Indian farms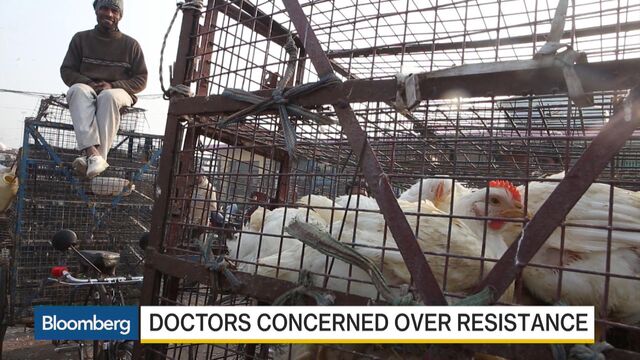 India's biggest chicken supplier maintained for years that antibiotics weren't used to produce its meat, and KFC's local operator had said none of its chicken farmer-suppliers administered antibiotics used on humans. A close look at more than a dozen farms in India have led both to change their public stance.
Farmers raising thousands of fowl under contracts with broiler companies in the south Indian state of Telangana said they routinely gave antibiotics to their chickens via feed, water and injections, sometimes continuing the treatments until just days before the birds were slaughtered, according to a months-long investigation of poultry-raising practices in India. The drugs included "critically important" ones the World Health Organization says should be safeguarded to prolong their efficacy in people.

Logbooks and delivery receipts indicate that antibiotics were used on 14 farms in Telangana's Ranga Reddy district, including one raising chickens for Suguna Foods Pvt., India's largest broiler company, and three contracted to sell to VH Group, the main supplier to KFC India. Interviews with farmers indicated that the drugs, permitted for veterinary use in India, were sometimes viewed as vitamins and feed supplements, and were used to stave off disease -- a practice linked to the emergence of antibiotic-resistant bacteria.
Selective Pressure
"Routine use of antibiotics at sub-therapeutic levels kills the weakest bacteria, but lets the more resistant ones survive," WHO Director-General Margaret Chan said in a Jan. 8 e-mail. "This occurs in medicine and also in animal husbandry and agriculture, especially when massive quantities of antibiotics are used to promote growth, not to treat sick animals."
On the farm contracted to supply Suguna Foods, a poultry production supervisor recommended the antibiotic levofloxacin be given to chicks starting the day after they hatched in September, according to notes recorded in a logbook kept by the farmer. The last of such regimens was recommended when the chicks were 28 days old and continued for two more days, the farmer said.
The antibiotic is permitted in India, but isn't approved for animal use in the U.S., EU, Australia and Canada, where it's deemed important for treating abdominal infections and pneumonia in people. On the poultry farm in Ranga Reddy, it was used to fortify drinking water suspended in plastic tubs from the coop's tin roof, the farmer said in an interview.
Website Outdated
Suguna Foods, which sells chicken nuggets and sausages under its "Home Bites" brand, had said on its website that "antibiotics are not used either in the feed or medicines." When asked on March 8 whether the statement reflected current farm practices, Managing Director G.B. Sundararajan said the page hadn't been updated in at least five years and was meant to pertain to antibiotic residues in packed meat, not what was used on farms. 
The website was updated later the same day to read: "quality is further pronounced by ensuring antibiotic residues within acceptable level as permitted in our country."
Antibiotics may be given if prescribed by a veterinarian to prevent disease, Sundararajan said on March 3. The telephone interview and the one five days later were preceded by multiple e-mails, telephone calls and text messages to his office and to other Suguna Foods officials over six weeks to clarify the company's antibiotic policy and to seek comment on the recommendations observed on the farm.
Add to Water
Three other farms in the Ranga Reddy district contracted to VH Group's poultry unit -- the biggest chicken supplier in India to Yum! Brands Inc.'s KFC restaurants -- were instructed by a farm supervisor to mix Vendox-N powder containing the antibiotics neomycin and doxycycline into the chicks' water, according to the yellow and blue logbooks kept by the farmers. The chicks were less than two weeks old at the time the farms were visited. 
The medicinal blend is "one of the safest and most economical products" for the treatment of E. coli and respiratory infections and the prevention of early chick mortality, VH Group's animal health division said on its website.
'Best Global Practices'
VH Group follows "best global practices" and its processes are "internationally followed and applauded," said Rohan Bhagwat, assistant company secretary for the group's publicly traded chicken subsidiary Venky's (India) Ltd., in a March 23 letter. The company has about 50 veterinarians and scientists in a research and development unit that India's Ministry of Science & Technology listed in 2014 among 621 recognized scientific and industrial research organizations.
"Be rest assured, we follow most scientific systems of breeding chickens such that there is no harm to either the birds or consumers thereof," Bhagwat said.
Critical for Humans
Neomycin is used treat skin infections in people, a complication of liver failure, and to reduce the risk of infection from bowel surgery. Doxycycline is a treatment for plague, anthrax and Lyme disease, and can be used to prevent malaria. The WHO categorizes them respectively as "critically" and "highly" important for human medicine -- the kind of antibiotics KFC India initially said weren't used on farms supplying its restaurants.
After saying in January that none of its chicken suppliers use antibiotics that are used on humans, KFC India modified its statement in March in response to observations made by Bloomberg News on VH Group farms. Poultry suppliers use antibiotics that are approved for veterinary use or for dual veterinary and human use, KFC India said in a March 16 e-mail.
KFC India has four suppliers in addition to VH Group, the company said in January, adding that its farms are secured, subjected to bird health checks, and that every chicken is traceable.
As part of its processes, chicken supplied to KFC is free of antibiotic residues -- a status "achieved by following a withdrawal period specific to each antibiotic," the company said.
Antibiotic Confusion
The farmer supplying Suguna Foods said he was told by officials at the Coimbatore, Tamil Nadu-based company not to disclose what he gave the birds. When asked, he couldn't explain what an antibiotic is. "Medicine" usually refers to what is injected into a bird, not what's given through feed or water, the farmer said.

Handwritten notes by the supervisor in the pale blue book, titled Farm Record and bearing the Suguna Foods logo, recorded recommendations to administer levofloxacin to the poultry at least six more times. The final dose was given seven days before the birds were collected for slaughter, according to the farmer.
Levofloxacin was recorded as being received by the farmer on a signed and dated "broiler-medicine delivery note" also carrying the Suguna Foods logo.
Meningitis Treatment
Another delivery note said five lots of a second antibiotic, gentamicin, were received by the farmer the day after the chicks hatched. There is no written record in the logbook suggesting how or when the broad-spectrum drug -- usually reserved for severe infections, including meningitis, in people -- should be used. The farmer said he administered it by injection every fourth day.
The farmer's name and address weren't shared with Suguna Foods. Recommendations made about the use of antibiotics would make the farm an exception among Suguna Foods' suppliers, said Sundararajan, the company's managing director. "This is not a common practice," he said. "The vet would have prescribed the medicines to the supervisor."
With 24,000 farmers, Suguna Food's veterinarians can't visit each farm individually, Sundararajan said. Prescriptions and drug deliveries are often dispatched via supervisors. The company uses "growth promoters" allowed by the government containing probiotics and herbal products, "not antibiotics," Sundararajan said.
"We are also concerned and we don't want to use more antibiotics," he said. "Only as a last resort is antibiotic used."
Supplying McDonald's
Suguna Foods' customers include India's biggest business conglomerate Taj Group, supermarkets across the nation, as well as McDonald's Corp.'s chicken supplier in India, Vista Processed Foods Pvt. Suguna Foods also exports frozen meat to Japan and the Middle East, according to its website.
"Vista fully adheres to the best practice protocols of our customers," the company said in an e-mail.
In India, McDonald's said that it doesn't source chicken meat from the Ranga Reddy district. The restaurant chain confirmed its sole chicken supplier in India is Vista Foods, as listed on Suguna's website, but only approves certain farms and can trace every product it serves to a specific plot, said Vikram Ogale, the company's director of national supply chain and quality assurance in India.
"McDonald's in India uses only approved antibiotics for the specific purpose of treating, controlling or preventing against established disease or illness," Ogale said in a March 15 e-mail. "If farm animals are treated with antibiotics, we follow specific withdrawal period as per government regulations."
McDonald's Vision
Ogale declined in a Jan. 13 telephone interview to provide a list of antibiotics that are permitted on its supplier-farms in India, saying the information is confidential. The company's Oak Brook, Illinois-based parent announced a global vision for antimicrobial stewardship in March 2015 that included a goal of prohibiting the use of drugs in food-animals that are critically important to human medicine and not approved for veterinary use.
"Our approach to animal welfare standards and practices is global and continually improving," said Becca Hary, McDonald's director of global media relations. "In Asia-Pacific, we will be working with our supply partners and relevant experts to implement this enhanced measure. This will occur over time depending on the complexities of local supply chains."
The Taj Group said that Suguna Foods supplies only its Mumbai-based TajSATS Air Catering Ltd. business. The unit counts more than two dozen international airlines among its clients, according to its website.
'No Cause for Concern'
Suguna is approved by the Food Safety and Standards Authority of India and "hence is already certified to be following safety norms," TajSATS said in a March 15 e-mail. "The poultry supplied to us by this vendor is grown in bio-secured farms and is subjected to regular residue monitoring analysis by government authorities."
TajSATS routinely audits Suguna Foods, including its stockrooms and product handling techniques, and has "found no cause for concern," it said.
Drug Residues
An animal given an antibiotic will harbor traces of the drug until it's eliminated over time, depending on factors including the medicine's type, duration and strength, the U.S. Department of Agriculture says. If insufficient time has lapsed before the animal is slaughtered, the drug can remain in the meat. Some antibiotics can remain active even after cooking, potentially perturbing the body's helpful bacteria when the contaminated meat is consumed.
Antibiotic residues have turned up in local supplies of chicken meat, milk and honey, according to the Centre for Science and Environment. The New Delhi-based group found 40 percent of 70 samples of chicken meat bought in the national capital's markets from September 2013 to June 2014 contained antibiotic residues. One sample contained 64.59 micrograms per kilogram of ciprofloxacin, a drug allowed in India, but not permitted for use in poultry in the U.S., Canada, European Union or Australia.
One other farm supplying a third major broiler company received recommendations to administer antibiotics six days before the flock was collected for slaughtering. Regulators in India mandate a 28-day withdrawal period, unless the manufacturer specifies a shorter time on the drug's label.
Gentamicin, sold by Merck & Co.'s animal health division as Garasol, should be used in day-old chickens only, according to its website. Chickens injected with Garasol mustn't be slaughtered for food for at least five weeks following treatment. For levofloxacin, at least eight days is usually needed for chickens to eliminate the drug, with a longer withdrawal period needed if the liver is being consumed, a study by Bulgarian researchers found.
Product Checks
If levofloxacin and gentamicin are prescribed, Suguna Foods observes a 14-day and 35-day withdrawal period respectively, Sundararajan said. "We are exporting to many countries," he said. "We check the meat for residues. We regularly check."

Adding to the difficulty controlling antibiotic use is the fact that products containing the medicines aren't always labeled as such. On one farm in Ranga Reddy district, a giant barn on concrete stilts houses thousands of egg-laying hens, jammed four in each cage.
'Just Vitamins'
On the floor lies a blue, 1-kilogram bag of powder which improves feed efficiency, according to the label. Listed among its ingredients is tylosin, an antibiotic permitted in India, but banned by the European Union as a growth promoter in 1998 after studies showed it fueled a surge in bacteria with cross-resistance to a drug used routinely on people.
The owner of the barn, Yadi Reddy, insists his layers aren't medicated through their feed. "That's not medicine -- it's just vitamins," he said.
Antibiotics recommended for use on Ranga Reddy district poultry farms, which are all permitted for veterinary use in India, included:
| | |
| --- | --- |
| DRUG | DESCRIPTION |
| colistin | last-resort drug for severe, multi drug-resistant infections in humans; not approved for veterinary use in Canada |
| enrofloxacin | withdrawn for poultry in the US by the Food and Drug Administration, which found its widespread use in chickens made a virtually identical drug, ciprofloxacin, less effective in humans; not approved for use in poultry in Canada and Australia |
| ciprofloxacin | for urinary tract, joint and abdominal infections in humans; not approved for use in poultry in the US, EU, Australia, Canada |
| levofloxacin | for pneumonia and urinary tract and abdominal infections in humans; not approved for use in poultry in the US, EU, Australia, Canada |
| tylosin | banned by the EU as a growth promoter in 1998 because of risk of cross-resistance with a treatment for syphilis and chlamydia in humans, but allowed as a treatment for disease in flocks |
| gentamicin | for bloodstream and bone infections and meningitis in humans; classified by the WHO as "critically important" to human medicine |
| doxycycline | used to treat plague, anthrax and Lyme disease in humans; not approved for use in poultry in the US and Canada |
Before it's here, it's on the Bloomberg Terminal.
LEARN MORE