Europe Traders Aren't Waiting Around to See If Rebound Holds
by
Stoxx 600 has been trading in tight range as rally stalled

Traders have withdrawn money from Europe funds for seven weeks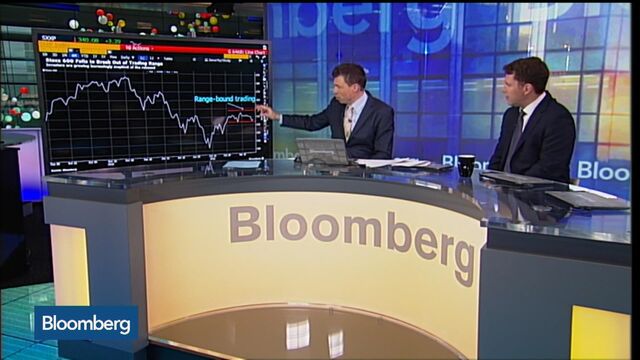 European stocks, which plunged 17 percent to start the year then recouped half the losses, are suddenly treading water. The onset of calm is failing to stem a crush of withdrawals among fund investors.
After surging 14 percent in a five-week rebound through March 14, the Stoxx Europe 600 Index has hit a wall. It's traded in a range of about 14 points for most of March and is heading for a 2 percent monthly advance, the smallest move in almost a year.

Investors who got burned earlier this year as the region's equities entered bear territory are reluctant to return to the market amid a faltering recovery. Economic data have been missing projections since January, analysts estimate a 1.6 percent drop in net income for Stoxx 600 companies this year, and managers have withdrawn money from European equity funds for seven straight weeks, the longest streak since October 2014, according to a Bank of America Corp. survey.
"Investors don't really believe in the rally," said Chris Beauchamp, a London-based market analyst at IG Plc. "It hasn't been replaced by substantial equity buying and that is a worry. People are wondering where the good news is going to come from as we head into the next quarter."
The Stoxx 600 has tumbled 7.9 percent this quarter through Tuesday, the most since the three months ended in September, and trailing equity indexes in the U.S. and Asia. The European measure closed down 19 percent from its April record.
At the center of the skepticism is European Central Bank President Mario Draghi's stimulus. Even after cutting all three key interest rates this month and expanding quantitative easing, investors worry that the push won't be enough to bring back growth. Economic confidence has slipped for two months, and forecasts are for a second monthly decline in consumer prices.
While the Stoxx 600 trades at 14.7 times estimated earnings -- near a one-year low versus the Standard & Poor's 500 Index -- many traders remain hesitant to invest in European shares. The cost of hedging against swings in euro-area stocks is hovering at a seven-month peak relative to U.S. equities, and the number of bearish options has surged to its highest level since September relative to bullish ones.
"This is a digestion phase after the storm we had in January because a lot of investors have been caught on the wrong foot at the beginning of the year," said Guillermo Hernandez Sampere, head of trading at MPPM EK in Eppstein, Germany. "It takes time for investor confidence to go back in."
Before it's here, it's on the Bloomberg Terminal.
LEARN MORE