Egypt Hijacking Without Passenger Deaths Fits Post-9/11 Pattern
by and
No civilians killed on seized jets since 2001 attacks on U.S.

EgyptAir assailant falsely claimed to have belt of explosives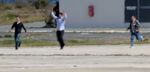 The casualty-free conclusion to the hijacking of an EgyptAir jetliner Tuesday is typical of such incidents since security was tightened after the 9/11 attacks on the U.S., with most would-be hostage takers now proving to be unarmed.
No civilians have died in the dozen or so hijackings to occur since the 2001 outrages saw almost 3,000 killed when terrorists crashed planes they'd taken over into the World Trade Center and Pentagon, with most incidents involving mentally unstable individuals or bids for political asylum.
Faced with body scans, shoe checks and bans on everything from liquids to nail clippers, as well as reinforced cockpit doors and the deployment of so-called sky marshals, terrorist groups for which hijackings were once the ultimate generators of publicity have largely shifted their attention to softer targets.
"Before 9/11 there were lots of political hijackings," said Paul Hayes, safety director at London-based aviation consultancy Ascend Worldwide. "There was almost a shuttle service of people demanding to go Cuba, which they viewed as a Marxist paradise, and a number of criminal hijackings accompanied by demands for money, as well as pro-Palestine and anti-Israel incidents."
Passenger Intervention
While hijacked aircraft have long been diverted to smaller airports -- such as London Stansted -- to minimize the threat to people on the ground, since 2001 attackers also face the prospect of being shot down by fighter aircraft should they be deemed to pose a risk to cities.
Airline passengers are also now much more likely to seek to disable anyone representing a threat to the safety of their flight, Hayes said, especially since improved security regimes mean that claims to be armed are most likely false.
The new attitude of travelers was revealed three months after the Sept. 11 attacks when "shoe bomber" Richard Reid was overpowered as he sought to ignite explosives packed in one of his sneakers on an American Airlines flight.
In the case of EgyptAir Flight 181, the assailant claimed to be wearing an explosive belt but was later found to be unarmed, according to Sherif Fathy, Egypt's aviation minister, who said the Airbus Group SE jet's crew had taken his claims at face value in diverting the Alexandria-Cairo service to Cyprus.
Metrojet Crash
Most passengers were released from the aircraft before a standoff between the man and its last few occupants. Cypriot and Egyptian authorities later said the hijacking was over and that the motives were unclear.
Security at Egyptian airports has been under scrutiny since a Russian Metrojet plane crashed in Sinai last year, killing 224 people. Investigators say it was most likely downed by a bomb, calling into question the safety of flights from the resort of Sharm el-Sheikh. David Learmount, consulting air-safety editor at Flightglobal, said the incident may have been on mind of Flight MS181's pilot when he chose to divert rather than order crew to tackle the hijacker.
EgyptAir has been the victim of hijackings before, with 58 passengers and crew killed in 1985 when Egyptian commandos stormed a Boeing Co. 737 that had been diverted to Malta by gunmen linked to the Abu Nidal extremist group.
Among five incidents this decade before today, the most recent, in February 2014, involved the takeover of an Ethiopian Airlines Enterprise Boeing 767 by its co-pilot, who diverted the jet to Switzerland after setting its transponder to indicate a hijacking. While circling Geneva the man revealed himself to be the antagonist and sought to claim asylum. He could face a 20-year jail term.
The same month, a drunken man demanded that a Pegasus Airlines jet be flown to Sochi, Russia, on the first day of the Winter Olympics after claiming to have a bomb. The crew flew to Istanbul as planned, where he was detained.
The other cases saw passengers overpower hijackers on Turkish Airlines and Alitalia SpA services in 2011, and the intervention of off-duty police to subdue people armed with sharpened aluminum canes on a Tianjin Air flight in 2012.
Before it's here, it's on the Bloomberg Terminal.
LEARN MORE