Economic Takeaways From Japan's Retail Sales, Spending Data
by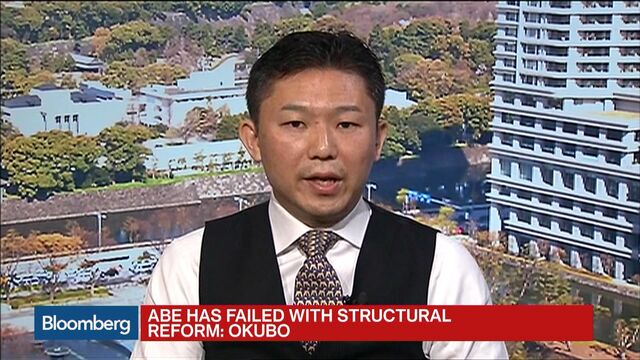 What you need to know about Tuesday's data released in Japan: The numbers for February paint a mixed-to-negative picture of the Japanese economy, maintaining pressure on Shinzo Abe's government and the central bank to consider more fiscal and monetary stimulus.
RETAIL SALES (FEBRUARY)

Retail sales measured month-on-month slumped 2.3 percent (-0.9 percent forecast) from January, when they dropped 0.4 percent.
Measured year-on-year, sales rose 0.5 percent (+1.6 percent forecast).


The takeaway: The data show an economy struggling to rebound after contracting last quarter, when waning private consumption dragged gross domestic product into negative territory. The gain in retail sales measured year-on-year was exaggerated by the 2016 leap year, which provided more shopping time in February.
Economist view: "They are a mixed bag. But they do indicate that the overall trend for consumption remains weak," said Koya Miyamae, an economist at SMBC Nikko Securities in Tokyo.  Miyamae added that the disappointing outcome of spring wage talks, declines in stocks at the beginning of the year and the introduction of a negative-rate policy in Japan have all poured cold water on consumer sentiment.

HOUSEHOLD SPENDING (FEBRUARY)
Household spending rose 1.2 percent (-1.9 percent forecast) from a year earlier.
The rebound after a 3.1 percent drop in January snaps a five-month stretch of declines.


The takeaway: While any pick up in spending is helpful, the data is at odds with the picture presented by retail sales, and a separate calculation of private consumption that feeds into GDP may prove weaker.
Economist view: "The basic trend for private consumption is still stagnant," said Yuichi Kodama, chief economist at Meiji Yasuda Life Insurance Co. "Domestic demand for consumption remains weak, although demand from visitors from overseas continues to be firm." 

JOBLESS RATE (FEBRUARY)
Unemployment rate stood at 3.3 percent in February, compared with 3.2 percent in January.
Job-to-applicant ratio was unchanged at 1.28 in February.


Takeaway: There is tightness in the labor market, which may become a bright spot if it drives significant wage gains. This in turn would help inflation and consumption.
Economist view: The problem is, the impact so far on household income and spending has been limited, said Takuya Hoshino of Dai-ichi Life Research Institute in Tokyo.

Before it's here, it's on the Bloomberg Terminal.
LEARN MORE