China Considers Tightening Control Over Internet Websites
by and
Draft rules could ban domain names not approved by authorities

Industry experts fear China's Internet will become `Intranet'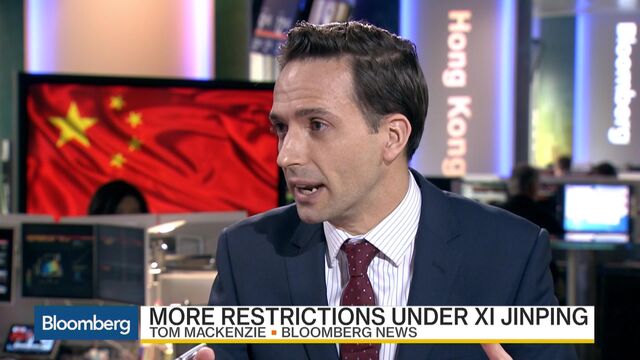 China is moving to tighten its grip over the Internet through draft rules that effectively ban Web addresses not approved by local authorities, including possibly the most widely used .com and .org addresses.
The Ministry of Industry and Information Technology is seeking feedback on regulations proposing that Internet domain names offering "domestic access" should only be provided by services supervised by the government, according to a notice posted on the regulator's website. Domain names are web locations such as .net or .cn and under the proposal, their providers have to apply to the ministry for approval before Web addresses are allowed to operate.
China employs one of the world's most exhaustive Internet censorship regimes to suppress dissent and information deemed dangerous by the Communist Party. Social-media posts can be deleted and search terms blocked, while local Web users can't access foreign websites including those of Facebook and Twitter.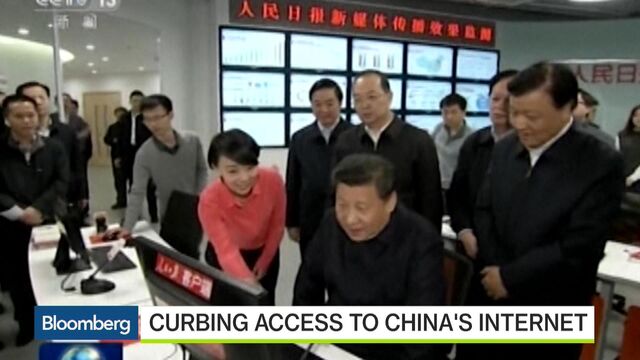 On Wednesday, the regulator said the draft regulations were needed to supervise an industry undergoing massive change, and didn't apply beyond China's borders. That means websites hosted outside the country and administered by The Internet Corporation for Assigned Names and Numbers (ICANN) -- the quasi-governmental gatekeeper for Web addresses -- wouldn't be subject to the regulations.
The new proposals "are not in conflict with global domain name systems," the ministry said in an e-mailed statement. "It doesn't concern websites outside the borders, and will not affect users visiting those websites. It won't affect foreign companies' operating businesses in China."
Raising Alarm
The envisioned rules however have triggered alarm among Internet observers. They could allow the government to monitor users' activity and strengthen their control over what content is accessible, said Lento Yip, chairman of the Hong Kong Internet Service Providers Association. The government of China, which has the world's largest Internet population, blocks and filters content from local and overseas websites to keep a tight rein on citizens' access to information via the so-called Great Firewall.
"The domain name system will work in the background for your every single click on the browser, while the Great Firewall blocks outside content," Yip said. "If this trend continues, we can predict that the Chinese network will soon become a big Intranet, totally monitored by a network 'big brother'."
"The authority can block all domain name servers outside of China (the Great Firewall) and allow only domestic domain name servers to serve Chinese Internet users' requests."
Blacklisting Websites
The government has increased restrictions since Xi Jinping took power three years ago, passing a security law establishing "cybersovereignty," making retweets of rumors a crime and advancing regulations that would let companies in key sectors only use technology deemed "safe and controllable."
Xi made personal visits to top state-run media outlets last month where they were called on to show loyalty to the party. Fang Binxing, who helped develop the country's Internet firewall, has just been appointed head of the newly created Cybersecurity Association of China, the official Xinhua News Agency reported last week.
Authorities are seeking feedback on the draft till April 25. If adopted, the new rules mean that, instead of blacklisting specific sites, the government will grant access only to websites that make it onto a white-list, said Lokman Tsui, an assistant professor at the School of Journalism and Communication at the Chinese University of Hong Kong who has advised Google on freedom of expression and the Internet.
"This is a serious escalation and from what I can see would be an unprecedented move," Tsui said in an e-mail. "It doesn't seem exclusive to .cn."
China last year erected regulations to supervise domain name registrars that operate within its borders, but the new rules would be the first time it's sought to extend its control over domains themselves, Tsui said. Article 37 of the proposed rules expressly puts domain names under central control, by blocking any not registered with the authorities, he said.
"Domain names engaging in network access within the borders shall have services provided by domestic domain name registration service bodies," according to the rules published Friday. "For domain names engaging in network access within the borders, but which are not managed by domestic domain name registration service bodies, Internet access service providers may not provide network access services."
Before it's here, it's on the Bloomberg Terminal.
LEARN MORE