Cargill Cotton President Departs Amid Slumping Prices, Demand
by and
Doug Christie had been at Cargill for more than two decades

Cotton prices under pressure from size of Chinese inventories
The head of Cargill Inc.'s cotton business has left the company, the latest in a series of senior management changes at the U.S. commodities trader and producer, amid declining global demand and slumping prices for the fiber.
The departure of Doug Christie was confirmed Tuesday by company spokesman Mark Klein. Minneapolis-based Cargill has no further announcement on the matter, Klein said in an e-mail. Christie couldn't be reached for comment.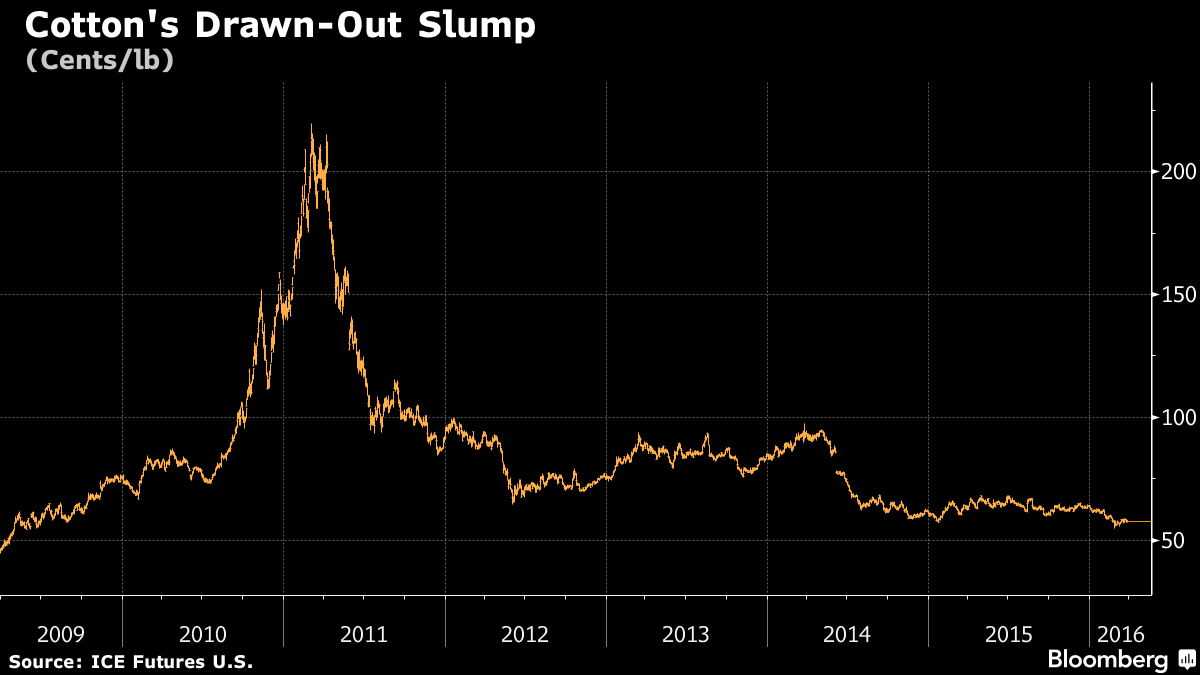 Christie had been with Cargill for more than two decades and had led the cotton business since 2009, according to his LinkedIn profile. His exit follows the closely held company's decision announced in November to scrap its two-tier executive leadership structure in favor of a single team. Other notable management changes in recent months include the departure of Pat Bowe, a former Cargill vice president of food ingredients and systems, to become chief executive officer at U.S. grain handler The Andersons Inc.
Cotton trading has been a tough business since the end of the bull market of 2010-2011, said Louis W. Rose, an independent industry consultant in Memphis, Tennessee, who worked for Cargill's cotton unit for almost three years through 2013. Cotton futures have fallen about 8 percent in the past year in New York. The huge size of inventories in China, the world's biggest cotton user, are contributing to both the decline in U.S. export volumes and a reduction in price volatility that traders can profit from, Rabobank analyst Tracey Allen said in a telephone interview Tuesday.
Reduced Volatility
"People have been under a lot of pressure, and most recently that has been because of this background noise out of China," Rose said.
Cargill isn't the only major cotton trader to see leadership changes in recent months. Louis Dreyfus Commodities BV said in December Tim Bourgois was appointed to run its cotton business, replacing Anthony Tancredi, who took charge of the company's sugar unit.
Before it's here, it's on the Bloomberg Terminal.
LEARN MORE