BOE Ready to Support Financial Stability on `Brexit' Risks
by
Goldman says BOE could ease credit should U.K. vote to leave

Pound could see further depreciation, funding markets tighten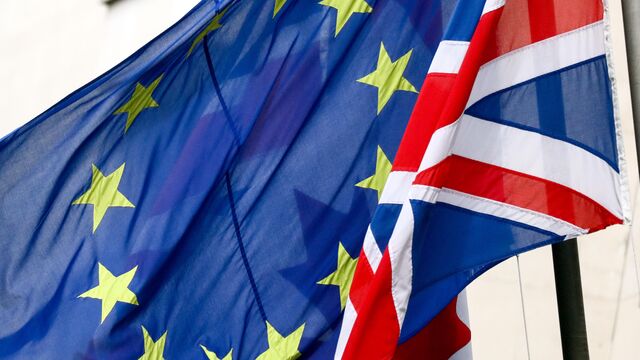 Bank of England officials said they're ready to support financial stability as they warned of the threats stemming from the U.K.'s referendum on its membership in the European Union.
"Heightened and prolonged uncertainty has the potential to increase the risk premia investors require on a wider range of U.K. assets," the BOE's Financial Policy Committee said in a statement of its March 23 meeting released on Tuesday. "These pressures have the potential to reinforce existing vulnerabilities for financial stability."
The FPC, which said the prospects for financial stability have deteriorated since its last meeting in November, has put the risk of a so-called Brexit following the June 23 vote at the top of its list of near-term domestic threats. Uncertainty could lead to a further depreciation of the pound, as well as impact the cost and availability of financing for U.K. borrowers, officials said. It could also test the capacity of funding markets at a time when the liquidity of these has shown signs of fragility across advanced economies.

With some polls showing the outcome of the referendum too close to call, the pound is heading for its worst quarter since 2009. A trade-weighted measure of sterling has dropped 5.6 percent this year amid concern that Britain might vote to leave the world's biggest single market. Options markets indicate traders see the pound falling further against all of its Group-of-10 counterparts in the next three months.
The FPC said it will continue to monitor Brexit risks closely and support mitigating actions where possible. The results of the BOE's stress tests in 2014, along with an improvement in U.K. banks' resilience, suggest that the financial system was "strong enough to continue to serve households and businesses" during a severe shock, the FPC said.
Underlining how concern surrounding the referendum is not isolated to Britain, Federal Reserve Bank of San Francisco President John Williams said on Tuesday that the U.S. central bank is also worried about the risks of a Brexit.
The U.K. leaving the EU may prompt a weakening of economic growth and sterling, "in both cases quite significantly," Goldman Sachs Group Inc. said in a note to clients e-mailed on Tuesday. In response, the BOE may announce credit-easing measures like an expansion of its Funding for Lending Scheme and the purchase of corporate debt, Goldman analyst Andrew Benito said in the note.
"The Monetary Policy Committee would not initially lower bank rate on a vote for Brexit, since the BOE would not want to present weaker sterling as a one-way bet," Benito wrote. "A rate cut would become a more likely option as the currency stabilizes, while the outlook for inflation remains subdued amid a weaker outlook for activity."
Before it's here, it's on the Bloomberg Terminal.
LEARN MORE