BlackRock Joins Pimco Warning Investors to Seek Inflation Hedge
by
Oil costs, labor market could push up inflation, Turnill says

Yellen expresses confidence inflation to return to 2% goal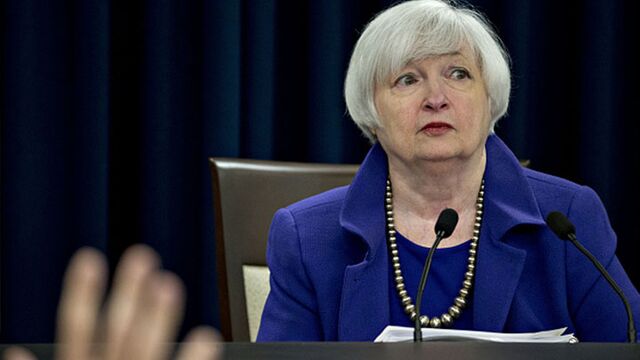 BlackRock Inc. joined Pacific Investment Management Co. in recommending inflation-linked bonds and warning costs are poised to pick up.
QuickTake Gold's Ups and Downs
"Stabilizing oil prices and a tighter labor market could contribute to rising actual, and expected, U.S. inflation," Richard Turnill, BlackRock's global chief investment strategist, wrote Monday on the company's website. "We like inflation-linked bonds and gold as diversifiers." New York-based BlackRock manages $4.6 trillion.
Federal Reserve Chair Janet Yellen, in a speech Tuesday in New York, said she was confident inflation would gradually return to the Fed's 2 percent goal. Pimco, which manages the $87.8 billion Total Return Fund, and BlackRock have both told investors this year that inflation is picking up.
Treasuries gained after Yellen said caution in lifting rates is "especially warranted" as the global economy presents heightened risks. The speech made a case for running the economy hot to push away from the zero boundary for the Fed's target rate.
The benchmark 10-year yield fell about seven basis points, or 0.07 percentage point, to 1.82 percent as of about 2 p.m. New York time, according to Bloomberg Bond Trader data.
Portfolio Losses
The BlackRock Inflation Protected Bond Portfolio has lost 1.5 percent during the past 12 months, while the Pimco Real Return Fund has lost 1.8 percent, based on data compiled by Bloomberg. Both funds were beaten by more than 60 percent of their peers.
"If you look at inflation expectations as they are reflected in the bond market we think they are too low," Joachim Fels, global economic adviser for Pimco said in an interview on Bloomberg Television. "We still think markets are pricing in too low a profile for inflation. We don't think inflation will move significantly above central bank's targets, but we think that there's a good chance that over the next 12 months or so, particularly in the U.S., that we will get back to 2 percent."
The Treasury market's inflation outlook and oil prices have risen from lows for the year set in February. A government report April 1 will probably show U.S. employers added about 210,000 workers in March, after hiring 242,000 in February, according to a Bloomberg survey of economists.
Inflation Outlook
The difference between yields on 10-year notes and similar-maturity Treasury Inflation Protected Securities, a gauge of trader expectations for consumer prices, has increased to about 1.6 percentage points from as low as 1.12 on Feb. 11. It's still below its average of 2.08 for the past decade.
The Fed's preferred inflation gauge rose 1 percent in February, a report showed Monday, half of the central bank's target of 2 percent.

"We may well at present be seeing the first stirrings of an increase in the inflation rate -- something that we would like to happen," Stanley Fischer, vice chairman of the Fed Board of Governors, said this month.
Policy makers should consider increasing rates in April in reaction to a tightening labor market and the prospect of inflation overshooting the 2 percent target, Fed Bank of St. Louis President James Bullard said March 23. He said in separate comments inflation hasn't materialized as he expected. Fischer and Bullard both vote on monetary policy this year.
The central bank's next meeting is April 26-27. It probably won't raise rates until at least the second half of this year, futures indicate.
"We like Treasury Inflation Protected Securities," Pimco's Worah said in a video on the company's website this month. "The market is pricing 1 percent inflation in the U.S. for next year. We think it's likely to be closer to 2 percent."
Before it's here, it's on the Bloomberg Terminal.
LEARN MORE