McClendon Partner Tom Ward Still Regrets Leaving Chesapeake
by , , and
Biggest mistake at Chesapeake was buying acreage in Lousiana

Ward never met anyone better at raising money than McClendon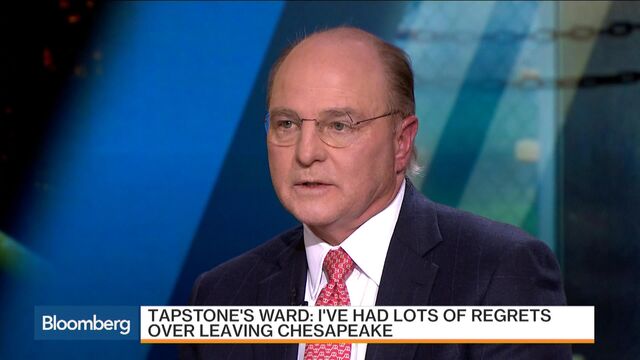 A decade since his departure from Chesapeake Energy Corp., Tom L. Ward said he still regrets breaking away from the company he founded with his friend Aubrey McClendon.
"We were both better together than we were separate," Ward, whose birthday fell three days before McClendon's, said Tuesday in a Bloomberg Television interview. "I've never met anyone in my career that could raise capital like Aubrey could."
The two energy entrepreneurs met at the age of 23 and worked as business partners for the next 23 years -- Ward as the operations chief and McClendon as the finance guru. By 2006, Ward had broken away to help form his own company, SandRidge Energy Inc.
A federal grand jury indicted McClendon on March 1 for his role in an alleged scheme to rig drilling auctions. McClendon maintained his innocence. He died a day later when the SUV he was driving slammed into a bridge embankment in Oklahoma City and then burst into flames. The indictment was withdrawn on March 3 after his death. The second company allegedly conspiring with McClendon was SandRidge, led at the time by Ward, according to people familiar with the matter.
Ward, now CEO of Tapstone Energy LLC, on Tuesday repeatedly declined to comment on any legal matters that had surrounded McClendon or that may affect Ward.
Oil Patch
Without commenting on the specific cases, Ward said that drillers have always been "aggressive" in seeking leases in the field and that "the majority" work together at one time or another.
"All of these areas start and get more aggressive as things get proven up," Ward said in his first interview since McClendon's death. "That's been since the beginning of the industry."
The two friends founded Chesapeake in 1989, and Ward said he loved his time there. But the energy explorer, which McClendon would ultimately grow into a natural gas giant, had become too complex for Ward by 2006, he said.
"From a very small company, I could keep track of everything we did," Ward said. "By the time 2006 came around it was very difficult for me to run operations like I needed to run operations to fully have a grasp of it all."
Ward, 56, built SandRidge into a $10 billion company at the height of its market value, while McClendon grew Chesapeake to more than three times that size at its peak.
Biggest Mistake
The biggest mistake he and McClendon made at Chesapeake was buying acreage in Louisiana, Ward said. Their attempt to apply a successful model of horizontal drilling in east Texas to the land in Louisiana ultimately proved a failure.
"We had to revamp our company around natural gas, which we did in 1998," Ward said.
Ward was fired as SandRidge's chief executive officer in June 2013 "without cause" -- after a four-month independent review following questions by investors over transactions he and his family members made with the company. The review found nothing that merited termination with cause. In 2013, after leaving SandRidge, Ward formed Oklahoma City-based Tapstone using his own capital.
McClendon was pushed out of Chesapeake the same year and started his own closely held company American Energy Partners LP. The two men never discussed getting partnering up again at the same company, Ward said.
Friendly Rivalry
While the two Oklahoma explorers kept a friendly rivalry, Ward said he couldn't compete with the deeper financial resources from larger companies such as McClendon's. Ward last traded electronic messages with the notoriously all-hours-of-the-night e-mailer in February.
"Most people that have ever been around him were energized by him," Ward said. "The same with me."
Before it's here, it's on the Bloomberg Terminal.
LEARN MORE