Abe Says Japanese Government Will Front-Load Budget Spending
By and
Prime Minister rejects suggestions for an extra budget

No plans for early general election or change to tax hike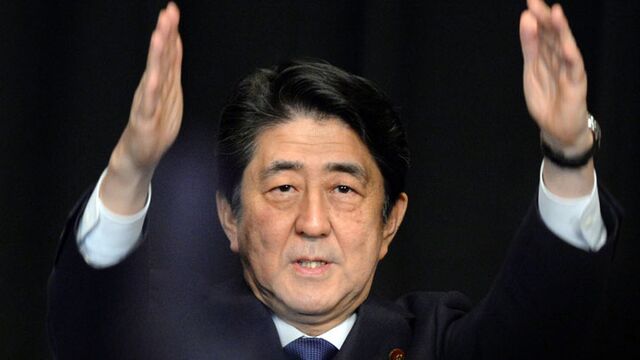 The best way to boost the economy is to quickly implement the existing budget for the next fiscal year, Prime Minister Shinzo Abe said Tuesday, rejecting speculation he would announce a supplementary spending package.
Speaking after the parliament passed a record 96.7 trillion yen ($850 billion) in outlays for the 12 months starting April 1, Abe brushed off suggestions from some members of the ruling party that the government may announce another 10 trillion yen of fiscal stimulus.
"I have said over and over again that passing next year's budget as soon as possible is the best economic policy," Abe told reporters in Tokyo. "It is necessary to put the budget into practice as quickly as possible. I will instruct the finance minister to front-load spending as far as possible."
Abe reiterated that Japan will go ahead with a plan to increase the sales tax next year, barring a major economic shock. He added there were not plans to call a snap lower house election to coincide with a poll this summer for the upper chamber.
"Regarding the sales tax increase next April, as I have said many times, in order to pass on a strong social security system to the next generation, we will raise it as planned next year unless there is a situation on the scale of the Lehman shock or the great earthquake," he said. "There is no change."
Stakes Rising
The economic stakes are rising, with public debt piling up and the Bank of Japan's unprecedented asset-purchase program and negative-rate policy so far unable to stoke inflation and break a cycle of expansion and contraction. With some economists suggesting that central banks are reaching their limits, the onus is falling back on governments to deliver fiscal stimulus and structural reform.
The Nikkei business daily reported over the weekend that the government would probably announce a supplementary fiscal package on Tuesday.
GDP contracted in the final three months of 2015 and economic indicators since then have been mixed or negative. Retail sales for February reported earlier Tuesday slumped 2.3 percent from a month earlier. Industrial production figures due Wednesday are forecast to show output dropped 5.9 percent last month compared with January.
Public support for fiscal stimulus is rising, with a survey by the Nikkei and TV Tokyo published Monday showing that 55 percent of respondents approve of such measures. The same poll showed 61 percent opposed a sales-tax increase.
Abe's relatively strong approval rating may also be an incentive for him to call a general election. The Nikkei survey showed 46 percent of the public support his Cabinet, with about two-thirds of respondents saying they see little to hope for from the main opposition party.