Sempra CEO Gets Biggest Bonus Ever, After Biggest Gas Leak Ever
By
CEO Debra Reed received $3.17 million bonus in 2015: filing

Bonus cut by about $130,000 due to safey, customer metrics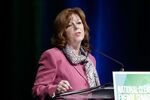 The same year a broken Sempra Energy storage well created the biggest natural gas leak in U.S. history, Chief Executive Officer Debra Reed earned her largest bonus yet.
While Reed received no payout for the part of her 2015 bonus that's tied to customer satisfaction and pipeline safety at two Sempra utilities -- amounting to about $130,000 -- she was awarded $3.17 million because the company's earnings exceeded targets, according to a company statement. It's her biggest bonus yet as CEO. Her total pay package was $16.1 million in the fiscal year ended Dec. 31, a proxy statement filed Friday shows.

Reed's compensation was the most among CEOs of utilities in the Standard & Poor's 500 Index that have reported pay for the 2015 fiscal year, according to data compiled by Bloomberg. The cuts to Reed's bonus, amounting to less than 1 percent of her total pay package, came as the well in Southern California Gas Co.'s Aliso Canyon field leaked the equivalent of a year's worth of greenhouse-gas emissions from more than 500,000 cars and forced thousands of residents to temporarily relocate.
"The board is sending completely the wrong message to the company's regulators and customers by paying CEO Reed a record bonus, irrespective of the small haircut it applied in light of the leak," said Michael Pryce-Jones, director of corporate governance at CtW Investment Group, which advocates for pension funds that collectively manage $250 billion.
Community 'Disruption'
Sempra spokesman Doug Kline referred to statements by the company in its proxy filing Friday. The board's compensation committee made bonus cuts "in light of the disruption the Aliso Canyon natural gas leak has caused the community surrounding the facility," according to the filing. The leak was detected at the underground storage field near Los Angeles on Oct. 23 and was plugged on Feb. 11.
The board raised Reed's salary by 20 percent to $1.35 million, to match the median pay for comparable CEOs. She also got restricted stock worth $7.16 million that will vest if the company meets targets for shareholder return and earnings per share growth in the next three years.
"If the board wants people to think they're taking this really seriously, this is not the way," said Julie Gorte, senior vice president for sustainable investing at Pax World Management in Portsmouth, New Hampshire, that manages $3.7 billion.
William Rusnack, the former CEO of Premcor Inc., is chairman of Sempra's compensation committee. Former California Congresswoman Lynn Schenk, retired Flour Corp. chairman Alan Boeckman, William Ouchi and William Rutledge also sit on the committee.
60 Lawsuits
Sempra, whose companies serve more than 32 million consumers, faces more than 60 lawsuits including one filed by California's attorney general related to the Aliso Canyon leak. State and federal agencies including the U.S. Environmental Protection Agency are investigating.
More than 150 people complained of continuing health problems after returning home. Southern California Gas said March 18 that methane levels in homes sampled since the leak was sealed were normal, citing independent testing commissioned by the company.