U.S. Stocks Little Changed as Investors Sift for Clues on Rates
by
Swath of data due this week include jobs, manufacturing

Equities struggle to extend rally after erasing 2016 losses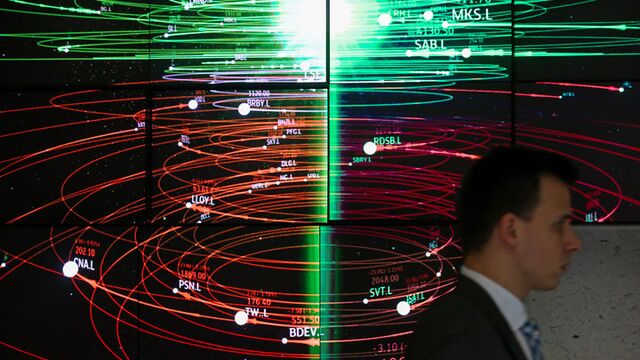 U.S. stocks were little changed in light trading, following their first weekly decline in six, as investors assessed economic data for clues on the course for interest rates.
The Standard & Poor's 500 Index increased for the first time in four days. The gauge on Thursday halted the longest stretch of weekly gains since November after Federal Reserve officials stressed in comments that rates will rise as soon as data warrant. This week will provide ample insight on the state of the economy, with reports due on employment, manufacturing, housing and consumer confidence.
The main U.S. benchmark rose less than 0.1 percent to 2,037.05 at 4 p.m. in New York, after weaving between gains and losses. The Dow Jones Industrial Average added 19.66 points, or 0.1 percent, to 17,535.39. The Nasdaq Composite Index lost 0.1 percent. Many markets in Europe remained shut Monday for the Easter holiday. About 5.1 billion shares traded hands on U.S. exchanges, the lowest this year and 40 percent below the 2016 average.
"It's Easter Monday, so the vast majority of Europe is closed, as is Hong Kong -- that has things relatively quiet," said Matt Maley, an equity strategist at Miller Tabak & Co LLC in New York. "You have Yellen speaking tomorrow, then Dudley on Thursday and the big employment and ISM manufacturing numbers on Friday. There's really no impetus to get people to do something definitively before that data."

With investors scouring data, a report today showed personal spending barely increased in February and the prior month's advance was revised down as Americans saved more of their incomes. A separate measure showed contracts to purchase previously owned homes rebounded more than forecast in February as sales picked up in most of the U.S. Data on Friday showed the U.S. economy grew at a faster pace in the fourth quarter than previously estimated.
Despite the signs of stingier spending, consumer companies were the strongest performers Monday. Starbucks Corp. and Darden Restaurants Inc. increased at least 1 percent, while Netflix Inc. added 2.9 percent, rising for the first time in five days with the strongest gain in three weeks.
The S&P 500 rallied for five straight weeks, wiping out all of its 2016 losses, before a three-day slide at the end of last week amid thin volume signaled the recovery may be running out of steam. The benchmark hasn't reached a new high in 10 months, the longest stretch outside a bull market since 1995.
Still, in every instance when the gauge experienced a longer period without fresh highs and didn't descend into a bear market, stocks kept rising after they broke out. The index's increase in the following 12 months averaged 24 percent, more than triple the normal rate of 7.6 percent, data compiled by Bloomberg show.
Rebound Lull
The main equity index has recovered from its worst-ever start to a year, climbing as much as 12 percent from a 22-month low on Feb. 11, as a surge in oil prices eased concerns over the solvency of some energy producers, worries over the impact of China's slowdown ebbed and the Fed signaled a slower pace of interest-rate increases. The S&P 500 is down 0.3 percent for the quarter after losing more than 10 percent, and is heading for its biggest monthly advance since October.
Amid the data and the Fed's recently updated economic outlook, traders are pricing in a 6 percent chance of a rate increase in April, and 36 percent probability of a boost in June. Fed Chair Janet Yellen is scheduled to speak Tuesday to the Economic Club of New York.
"Nothing negative has occurred over the weekend to derail the continued positive tone that the market has exhibited over the last six weeks," said Michael James, managing director of equity trading at Wedbush Securities Inc. in Los Angeles. "Unless we get something negative from any of the economic reports this week, you're likely to see a market that's sideways, with possible a slight upward bias."
Meanwhile, quarterly earnings season also looms, with Alcoa Inc. unofficially kicking off the reporting period on April 11. Profit at S&P 500 companies probably slumped 9.3 percent in the first three months of the year, according to analysts' estimates. That's worse than the 4.5 percent drop predicted two months ago.
VIX Rises
The Chicago Board Options Exchange Volatility Index rose 3.4 percent Monday to 15.24. The measure of market turbulence known as the VIX on Thursday snapped the longest stretch of weekly declines in four years.
Six of the S&P 500's 10 main industries increased, with consumer discretionary companies adding 0.5 percent. Raw-materials and consumer staples shares gained at least 0.4 percent as a gauge on the dollar fell for the first time in seven days, halting the currency's longest rally in two months. Energy producers, utilities, technology and health-care shares all sank about 0.3 percent.
Consumer discretionary companies were boosted by merger activity in lodging stocks. Starwood Hotels & Resorts Worldwide Inc. climbed 2 percent after saying it received a higher takeover offer from a group led by Anbang Insurance Group Co., putting the Chinese company back into battle with Marriott International Inc. for control of the hotel operator. Marriott was the second-best performer in the benchmark gauge, adding 3.9 percent.
Media and apparel companies gained, even amid the tepid growth in consumer spending. PVH Corp. and Michael Kors Holdings Ltd. advanced more than 1.3 percent. Time Warner Inc. added 3.6 percent, its best in six weeks, after "Batman v Superman," the first of 10 superhero movies planned by Warner Bros., opened with weekend sales of $166.1 million in North American theaters.
MetLife Inc. and Prudential Financial Inc. rallied at least 1.6 percent to help lift the financial group, with the insurers rising for the first time in five days. Real-estate companies also contributed to the advance, with Equity Residential climbing 1.7 percent.
CSRA Inc. surged 6.2 percent to lead the S&P 500, the information-technology company's strongest one-day increase in six weeks. That rally wasn't enough to lift the broader tech group, which slipped for the second time in three days after climbing for eight straight sessions. Microsoft Corp. and Qualcomm Inc. fell more than 1.2 percent to weigh on the industry.
Energy, Transports
Energy companies in the S&P 500 fell as crude oil slipped for a fourth day. Noble Energy Inc. tumbled 8.2 percent after Israel's High Court blocked a proposal to regulate the natural gas industry, a ruling that will complicate plans to develop the country's largest fields. The country's offshore gas fields are held by a small number of companies headed by Texas-based Noble Energy. Hess Corp. and Tesoro Corp. lost more than 2.4 percent.
The Dow Jones Transportation Average declined 0.9 percent, extending a losing streak to the longest since August as Avis Budget Group Inc. and Union Pacific Corp. slipped at least 2.6 percent. Avis fell for a third day, losing 11 percent over the period, after MKM Partners analyst Christopher Agnew lowered his first-quarter profit estimates. The broader industrial group rose, paced by General Electric Co.'s 1.2 percent climb as the conglomerate gained for the fourth time in five days.
Among other companies moving on corporate news, Pandora Media Inc. fell 12 percent, the in five months, after a management shake-up. Co-founder Tim Westergren will take over as chief executive officer more than a decade after he last ran the world's largest online radio service, replacing Brian McAndrews as the company attempts to reverse its flagging stock price.
Alder Biopharmaceuticals Inc. rose 50 percent, its biggest intraday gain ever, after saying that its experimental infusion to prevent migraines met the main goals of a mid-stage trial. Avon Products Inc. climbed 8.4 percent after reaching a settlement with activist investors that will stave off a potential board fight.
Before it's here, it's on the Bloomberg Terminal.
LEARN MORE