Millennium Said to Hire Credit Suisse's Jain for Co-CIO Role
by , , and
Bob Jain to split chief investment duties with Izzy Englander

Jain leaves Credit Suisse as bank undergoes restructuring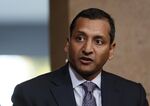 Bob Jain, the global head of Credit Suisse Asset Management, is leaving the Swiss bank to be co-chief investment officer at Izzy Englander's Millennium Management, according to people familiar with the matter.
Jain, 45, will help Englander, 67, manage capital allocations and risk amid rapid growth and an expansion in fixed income and commodities, said the people, who asked not to be named because the information isn't public. The two will share investing oversight with John Anderson, Mike Gelband and Hyung Lee, heads of commodities, fixed income and equities, respectively.
Jain is leaving Credit Suisse Group AG after two decades as it transitions away from its riskier securities businesses and toward wealth management. The bank is undergoing its second overhaul under Chief Executive Officer Tidjane Thiam, 53, who took over in July. At Millennium, which is based in New York, assets under management have almost tripled since the start of 2009 to $33.1 billion as of March 1.
"Bob has had a tremendous impact across Credit Suisse, both as a business leader and as one of our true culture carriers," said Iqbal Khan, global head of international wealth management for Credit Suisse. "We are grateful for his 20 years at Credit Suisse and are looking forward to working with him as a client in his new role."
Millennium declined to comment. Jain didn't respond to attempts to reach him. He will stay at Credit Suisse through June and a successor will be announced "in due course," according to an internal memo seen by Bloomberg confirmed by a Credit Suisse spokeswoman.
Thiam's Plans
Jain joined Credit Suisse in 1996 after working as a trader at UBS O'Connor. A former head of the equities business, he moved to the bank's asset management division in October 2012. The asset management business added 26.5 billion francs ($27.16 billion) in net new assets in 2015, a 9 percent increase over the year earlier.
As part of Thiam's restructuring plans, he has pledged to focus on wealth management while shrinking the securities businesses, which contributed to the bank's biggest loss in seven years in the fourth quarter. Thiam said on Wednesday that the bank may post a first-quarter loss as it unwinds illiquid trading positions of which management wasn't aware.
Millennium raised $3.8 billion in new money last year, or almost one-tenth of the net inflows for the entire hedge-fund industry, and stopped taking cash at the end of the year as it hires more teams. The Millennium International fund, which relies on about 195 teams to manage its money, gained 12.7 percent in 2015 and 12.2 percent in 2014.
The fund is down 4 percent this year, the fourth-worst drawdown since Englander founded the firm in 1989, according to one of the people. The fund has lost money in just one year -- 2008 -- when it dropped 3.5 percent because a small portion of its positions were stuck at Lehman Brothers Holdings Inc. when it filed for bankruptcy.
Jain will start at Millennium later this year.
Before it's here, it's on the Bloomberg Terminal.
LEARN MORE