Loeb Favors Chief Behind 7-Eleven Sales Boom Over CEO's Son
by and
Convenience stores earn 90% of Seven & i's operating profit

Third Point says Seven-Eleven president a top CEO candidate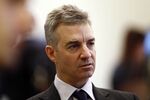 Billionaire hedge fund manager Dan Loeb's choice to be the next chief executive officer of Japan's Seven & i Holdings Co. boosted sales at the retailing giant's convenience-store unit for 43 consecutive months even as a sales tax increase during the period weighed on broader consumption.
Seven-Eleven Japan's results explain why its president, Ryuichi Isaka, should be a leading candidate to take over as chief of the parent company rather than the son of current CEO Toshifumi Suzuki, according to Loeb, who has cautioned the company's board against creating a family dynasty. There is speculation that the elder Suzuki, who is 83, has "chronic health problems" and may try to position his son to succeed him, Loeb wrote in a letter to Seven & i's board on Sunday.
The critique sets the stage for a potential confrontation between Japan's largest retailer by market capitalization and an activist who's prevailed in clashes with the former CEOs of auctioneer Sotheby's and Dow Chemical Co. Loeb's rebuke of Seven & i's succession planning is "regrettable," and Suzuki, the CEO, comes into the office daily to work, Hirotake Henmi, a spokesman, said by phone Monday.
"Most of Seven & i's profit comes from the Seven-Eleven convenience store business and Isaka leads it, so his achievements are visible," Dairo Murata, an analyst at JPMorgan Securities Japan Co., said by phone. Suzuki's son Yasuhiro Suzuki, the retailer's chief information officer, "doesn't have a track record. If the company's performance goes bad with the son taking it over, their governance may be questioned."
'Reasonable Candidate'

Seven & i rose 1.9 percent to 5,006 yen as of the midday break in Tokyo trading, providing the biggest boost to the benchmark Topix index. The company's shares have declined 9.8 percent this year. The company's shares have declined 6.9 percent since Oct. 26, the last day of trading before Japanese newspapers Kyodo and Nikkei first reported Third Point's investment.
Third Point declined to disclose its stake in the Japanese company. Murata said he assumes Third Point's stake is small, so Loeb may be viewed by Seven & i "as an activist who just wants to take profit from short-term investment."
Seven & i is earning about 90 percent of operating income through its convenience stores. Seven-Eleven Japan brought in a record 223.3 billion yen ($1.97 billion) in operating income during the last fiscal year. The parent company has forecast the unit would top that result and bring in 235 billion yen in operating profit for the year ended Feb. 29.
"Mr. Isaka has been instrumental to the success of Seven‐Eleven Japan, which is the group's core business," Loeb wrote in his letter. "Seven‐Eleven Japan has delivered outsized results for Seven & i shareholders and Mr. Isaka should be rewarded -- not demoted -- for his performance and commitment to delivering results for shareholders."
Isaka is a "reasonable candidate" who has managed the convenience business well, said Murata, the JPMorgan analyst. The succession plan will likely face scrutiny if the company chooses a relative to lead the Japanese company, he said.
Family Dynasty
Seven & i would be far from alone in becoming a family dynasty among major companies in Asia. Toyota Motor Corp. President Akio Toyoda is the grandson of the world's largest automaker's founder, while the Lee family's control of Samsung Group has contributed to clashes recently with billionaire activist investor Paul Elliott Singer.
Suzuki became CEO of Seven & i in 2005, the same year the company bought out 7-Eleven Inc. and made it a wholly-owned subsidiary. The purchase was a milestone for Seven-Eleven Japan, which had opened its first store in the country in 1974 under a license from U.S. franchise operator Southland Corp.
Seven-Eleven Japan ended up acquiring Southland in 1991 and combined with Ito-Yokado Co., founded by billionaire Masatoshi Ito, to form Japan's biggest retailer in 2005. Suzuki was chairman of Ito-Yokado at the time of that deal and said management was motivated in part to avoid a hostile takeover.
Third Point is now advocating for Seven & i to restructure Ito-Yokado and divest retailers Sogo & Seibu, Barney's Japan, and Nissen Holdings Co. Suzuki's successor should focus on running the company as a convenience-store operator, Loeb said.
"A search for Mr. Toshifumi Suzuki's replacement must be focused on securing the CEO who will deliver the best results for shareholders, rather than one who is simply the product of family ties," he wrote.
Before it's here, it's on the Bloomberg Terminal.
LEARN MORE