Bull Market in S&P 500 Goes AWOL as History Rewards Patience
by
The average yearly return when they snapped out of it is 24%

S&P 500 has gone 10 months without reaching a fresh high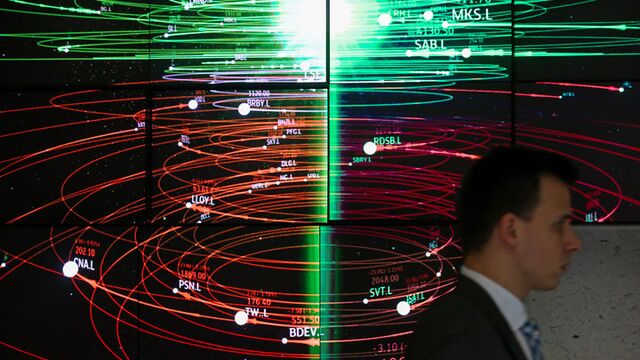 For investors getting antsy after a yearlong stretch in which U.S. stocks have gone nowhere, patience may yet be a virtue.
It has seemed like anything but a bull market for months, with earnings in free fall, the Federal Reserve raising interest rates and investors pulling dollars from equity funds by the billions. Down 1.2 percent from a year ago, the Standard & Poor's 500 Index hasn't seen a new high in 10 months, the longest streak outside a bear market since 1995.

But how unusual would it be for the market to avoid a protracted decline and snap out of a dry spell that has persisted as long as this? Not very. Since the Great Depression in the 1930s, seven bull markets have witnessed rebounds from lulls that lasted longer than the current one -- often a lot longer. The average gain in the 12 months after: 24 percent.
"For bull markets to be healthy, you need a series of corrections along the way, to make sure there is not too much excess in the market," said Dan Miller, who helps oversee $26 billion as director of equities at GW&K Investment Management in Boston. "Once the market indeed hits new highs, a lot of investors who have been waiting on the sidelines are going to feel compelled to jump back in."
Miller said the firm's clients haven't taken huge bets on equities and are employing fixed income to balance out the volatility in stocks.
Stock Resilience
In the latest sign of resilience, equities restored $2.5 trillion of value over the five weeks through March 22, helping the S&P 500 reverse a 10 percent retreat. Stocks rebounded as a surge in oil eased concern over mass defaults among energy producers, the Fed signaled a slower pace of interest-rate increases and data showed the consumer has held up well.
Even with the bounce, the S&P 500 remains almost 100 points below the record high of 2,130.82 reached May 21, extending the stretch that it has gone without making a 52-week high to 212 days. The benchmark gauge slipped 0.7 percent last week as the dollar strengthened amid comments from some Fed officials that a move higher in interest rates could still come at any meeting, depending on progress in economic data. The index added less than 0.1 percent at 4 p.m. in New York.
Meanwhile, investors are pulling money out of stocks at a virtually unprecedented rate. Individuals have taken a net $130 billion from mutual and exchange-traded equity funds in the past year. Bank of America Corp. said its trading clients have been net sellers of stocks for eight straight weeks, the longest stretch in five years.

And why not, with the bear case as pronounced as it appears to be in 2016? Global growth is slowing -- the International Monetary Fund cut projections for worldwide economic expansion to 3.4 percent from 3.6 percent predicted in October -- and corporate profits are poised to fall for a fourth consecutive quarter in America. While U.S. employment and consumer purchases are expanding, the improvement may hasten rate hikes.
"The things that have propped up a long-lived bull market have become increasingly weak," said Michael Ball, president and lead portfolio manager of Colorado-based Weatherstone Capital Management Inc., which oversees $500 million. "It's like a four-engine jet that has lost two engines."
The rough patch contrasts with the years leading up to it, particularly 2013 and 2014, when the S&P 500 advanced in all but six months. Yet viewed through a wider lens, the pause since May is nothing unusual for a bull market. And when stocks are able to bounce back from such a stretch, the gains are often substantial.
Outsize Gains
In every instance when the S&P 500 experienced a longer period without fresh highs and didn't descend into a bear market, stocks kept rising after they broke out. The index's increase in the following 12 months averaged 24 percent, more than triple the normal rate of 7.6 percent, data compiled by Bloomberg show. In a market cycle, a bull run is followed by a bear retreat where a threshold of 20 percent is applied to discern them.
A hiatus such as this has occurred in roughly three of every five bull markets. They usually happen as investors pause to assess rising valuations, decelerating earnings growth or tighter Fed policy, according to Jim Paulsen, the Minneapolis-based chief investment strategist at Wells Capital Management Inc. Paulsen isn't in the camp that sees a sharp rebound. In fact, he says, returns are likely to be flat until a recession ends the bull market.
'Bunny' Market
"You chronically debate the bull/bear thing, but the reality is, it isn't either," said Paulsen, whose firm oversees $349 billion. "The economy isn't close to a recession, but the drill of the bull is weakening and we're vulnerable. So what are you left with? A bunny. It's a market that doesn't go up a lot, doesn't go down a lot. It hops around."
Volatility is exploding, with the S&P 500 posting daily moves of 1 percent 81 times in the last 12 months, more than the combined total in 2013 and 2014. The turbulence, along with lackluster returns, is taking a toll on investor sentiment. Money managers in Bank of America's survey kept 5.1 percent in cash this month, above the three-year average of 4.8 percent, and their equity holdings relative to other assets like commodities and bonds were near a four-year low.
While it's frustrating to see gains fizzling, the level of losses over time isn't consistent with the typical start of past bear markets. During the 10 that began with stocks going this long without posting new highs, the S&P 500 was down 18 percent on average by now.
Range Breakout
Stocks will break out of the range as earnings growth returns, according to Binky Chadha, chief strategist at Deutsche Bank AG. With the U.S. economy strengthening and the drag from the dollar and oil diminishing, the first quarter is likely to mark the trough of the profit contraction, Chadha wrote in a March 23 note. He sees the S&P 500 rising to 2,300 by year-end, a 13 percent increase from last week's closing level.
Should the S&P 500 match the average 323 trading days that it had taken to resume past bull runs, the index would hit a high in five months.
"There are a lot of investors that have been on the sidelines that will and can come to the market once they feel more confident," Miller at GW&K said. "If we can start to see better corporate earnings, that's what I think can drive us to the next level."
Before it's here, it's on the Bloomberg Terminal.
LEARN MORE