Rousseff's Likely Successor Has Legal Problems of His Own
by and
Michel Temer is widely viewed as market-friendly but with risk

His party split Tuesday from coalition in Rousseff setback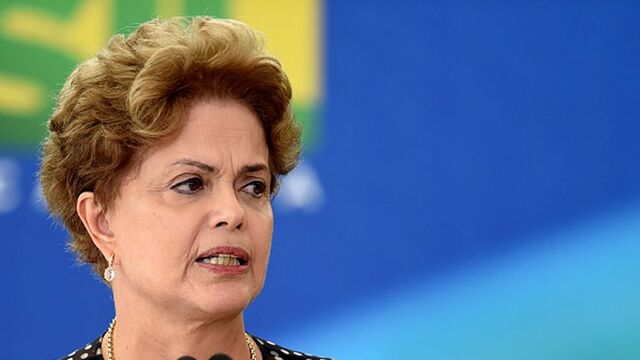 With President Dilma Rousseff of Brazil looking increasingly likely to face impeachment by early May, investors are turning their attention to the man who'd succeed her.
Michel Temer, the vice president, has plenty of traits that'd be welcomed in a country mired in a brutal recession. Those who know him best say he's a business-friendly pragmatist who's developed a knack over a multi-decade political career for forging agreements with fellow lawmakers. But then there's this too: He runs the risk of getting forced out of office by charges related to the same impeachment case being brought against Rousseff. Temer's PMDB party, the largest in the country, abandoned the governing coalition at a meeting Tuesday broadcast live on local television.
QuickTake Behind the Turmoil in Brazil
In just over 30 years since its return to democracy, Brazil has looked to its vice president twice to pull itself out of crisis. Once it led to a debt default, the other time to the end of hyperinflation. Investors are wondering whether Temer will be more like Vice President Jose Sarney and his troubled economic plans of the 1980s or Vice President Itamar Franco who laid the foundation for years of growth and stability in the '90s.

"There won't be any miracles, but there's more upside here -- I'm fairly optimistic," said John Welch, an economist at Canadian Imperial Bank of Commerce and long-time Brazil watcher who believes Temer's succession would be a good development. "He's an aggregator like Itamar, a consensus builder, perhaps not to the extent the market wants but certainly much better than what we have now."
With the largest budget deficit on record there won't be much room for Temer to adopt fiscal stimulus measures. He would, however, act more effectively to control spending than Rousseff did, according to Thiago de Aragao, partner and director of strategy at political-risk consulting company Arko Advice.
Yet more importantly, Temer could boost investor confidence hovering near an all-time low with policies that would pull back a heavy government hand in the economy during 13 years of leftist Workers' Party rule.
A policy paper Temer's PMDB party issued in October argues that Brazil's consumer-based growth engine has "run out of steam" and needs to be replaced by private investment and gains in competitiveness. It calls for a higher retirement age and an easing of the constitutional mandate for some spending so as to better allocate resources.
Bigger Private Sector Role
The party has already gotten a bill through the Senate reducing the role of state-run Petrobras and allowing more private sector participation in the oil industry. It also proposes full central bank independence with fixed mandates for its directors, a proposal long sought by investors wary of political meddling in monetary policy.
Eurasia Group, a political risk consultancy, puts the chance of Rousseff being ousted at 75 percent. The group's Latin America director, Joao Augusto de Castro Neves, expects Temer to take over in May. "There will be a credibility shock early on, he'll have a good amount of political capital early on to build his government, forge a coalition in Congress and pass some legislation," he said.
In a sign of support for Temer, Aecio Neves, the runner-up in the 2014 presidential race, has toned down his calls for new elections and is now supporting the impeachment process that would put the vice president in office. Temer would draw support from centrist legislators and opposition parties to form a national unity government capable even of pushing through some constitutional reforms, said Senator Tasso Jereissati of the PSDB.
Helping to cement that support, PMDB legislators say the 75-year-old Temer would stand down in 2018, giving Neves and others a shot at the country's top job.
Will Not Run Again
"He would take on the commitment of not going for re-election," PMDB Senator Raimundo Lima said in an interview. "He said that not only to me, but also to senators from the opposition."
Temer's press office declined to comment on the economic policy of a possible national unity government, but said he's been discussing the political scenario and PMDB economic proposals.
Still, Temer faces a series of pitfalls that could turn him into little more than a placeholder until 2018 or even force him out of office. Opposition parties have asked the electoral court to annul Rousseff's 2014 re-election, arguing it was funded by kickbacks from Petrobras. If the court rules in their favor, her former running mate Temer could fall as well, prompting general elections or an indirect vote for president in Congress.
In addition, the two-year corruption probe that has put high-profile politicians and executives behind bars shows no sign of letting up and is increasingly encroaching on members of the PMDB. Among them are the chiefs of both houses of Congress, who are being investigated with authorization of the Supreme Court. Both deny wrongdoing.
Widespread Disillusionment
Revelations that numerous politicians have been on the take of some of the country's largest corporations merely reinforce widespread disillusionment with the political class as a whole, including Temer.
While two-thirds of those polled in a March 17-18 Datafolha opinion survey say they favor Rousseff's impeachment, only 16 percent believe a Temer administration would be good or great.
"Temer will be a second Dilma," said Paulo Santos, who joined an anti-government protest in Brasilia this month to express his disgust with widespread corruption. "We need new elections."
That sentiment -- that Brazil may not be heading for calmer waters and that more politicians may fall -- reverberates among traders as well. Reginaldo Galhardo, foreign exchange manager at Treviso Corretora de Cambio in Sao Paulo, said the market is tense. "It feels like nobody will be left over," he lamented.
Before it's here, it's on the Bloomberg Terminal.
LEARN MORE