PJT's Caspersen Charged by U.S. Over $95 Million Fraud
by and
Firm conducted an internal investigation and is cooperating

PJT shares fall in New York trading after charges announced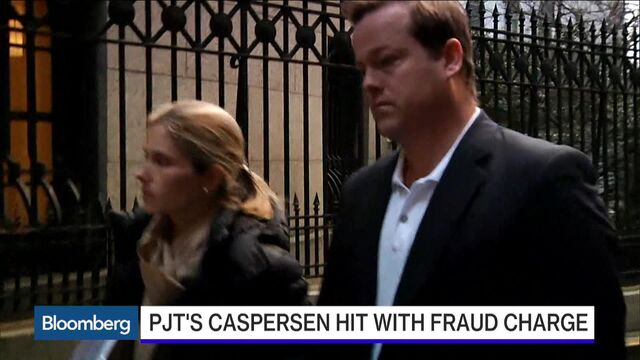 A former managing director at PJT Partners Inc.'s Park Hill Group was arrested and charged with scheming to defraud investors, including a charitable foundation, of more than $95 million.
Andrew Caspersen, 39, stole the money through phony private equity investments and lost millions through aggressive options trading in his own account, prosecutors said in a complaint made public Monday. PJT told staff in a memo that Caspersen was fired on Monday. Shares of the investment bank plunged in New York trading.
PJT learned of potential misconduct during the week of March 14, and hired a law firm to conduct an internal review, according to people familiar with the matter who asked not to be identified discussing the company's private actions. It then alerted law enforcement, the people said. Caspersen was arrested on March 26 at an airport, according to Manhattan U.S. Attorney Preet Bharara. He's charged with securities fraud and wire fraud and faces a maximum prison term of 20 years on each count.
Caspersen allegedly invented financiers and set up false e-mail addresses and misleading domain names. Among the alleged scams he pulled, according to the charges, Casperen claimed he structured a new investment in which he put his own money. A charitable foundation, not identified in the complaint, wired $24.6 million to invest in a credit facility that was backed by a private security portfolio. Caspersen started moving the money into his own brokerage accounts, where he lost it on bad trades, prosecutors said.
Released From Jail
A judge released Caspersen from custody on a $5 million bond after he appeared in Manhattan federal court. Prosecutors sought bail of $20 million. Defense lawyer Dan Levy said in court his client didn't have access to the funds prosecutors claimed he had.
"Losses have eviscerated any assets," Levy said in court.
Levy declined to comment after court on the charges themselves.
PJT is run by Paul J. Taubman, and advises on mergers, restructurings and fund placements. It combined with advisory businesses of Blackstone Group LP and was spun off as a separate company in October. Park Hill was previously part of Blackstone, and Caspersen joined the unit that advises hedge funds, private equity and secondary funds on capital raising in 2013. He is a graduate of Princeton University and Harvard Law School, and joined from Coller Capital, according to a statement at the time of his hiring.
Former Chairman
His father, the former chairman and chief executive officer of Beneficial Corp., Finn M.W. Caspersen, died in 2009. Andrew Caspersen's girlfriend, Catherine Fairfax MacRae, the granddaughter of the founding partner of LeBoeuf, Lamb, Greene & MacRae, was killed in the Sept. 11 terrorist attack on New York, the New York Times reported.
PJT said in a statement today that it was "stunned and outraged" to learn of Caspersen's fraud. "Our firm's reputation for ethical behavior is fundamental to our business," PJT said.
PJT dropped 11 percent to $23.66 in New York, extending its decline to 17 percent since Dec. 31. They fell as much as 25 percent after the charges were announced.
Blackstone was "appalled by the fraudulent actions of this former Park Hill employee," the private equity firm said in an e-mailed statement. "PJT and the authorities will have our full cooperation and assistance as they pursue this matter."
(Earlier versions of this story were corrected to reflect the nature of the firm and to indicate that charges were included in a criminal complaint.)
(
Updates with bail ruling in fifth paragraph.
)
Before it's here, it's on the Bloomberg Terminal.
LEARN MORE