It Took Only a Month for Funds to Grow Wary of a Copper Rally
by
Money managers cut net-long position for second straight week

Most producers haven't changed supply-expansion plans: BI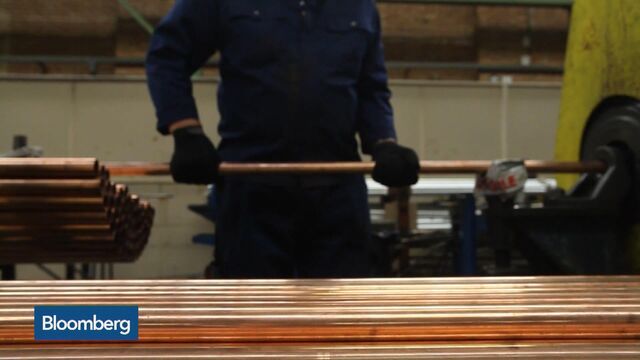 It's been barely a month since investors first started betting on a copper rally, and they're already on the retreat.
Money managers cut their wagers on price gains for a second week, pulling back just before futures capped the worst slump in a month. Tuesday's attacks in Brussels sapped confidence in the global growth outlook, while a recovery for the dollar weighed on demand for commodities as alternative assets.

Copper has dropped about 19 percent in the past year. While Glencore Plc and Freeport-McMoRan Inc. have reduced production, traders are concerned that the industry's cuts haven't gone deep enough. More than 4.5 million metric tons of additional mine capacity is planned to come online by 2020, and most producers haven't changed their plans to expand even in the face of lower prices, according to an analysis by Bloomberg Intelligence.
"We've had a little bit of a rally in copper, and that's just linked to the changes in expectations as it relates to the dollar," said Kevin Caron, a Florham Park, New Jersey-based market strategist and portfolio manager who helps oversee $180 billion at Stifel Nicolaus & Co. "We have not yet seen a turn in terms of global demand. We haven't seen any kind of fundamental change in supply and demand characteristics of copper." 
Net-Position
Money managers reduced their net-long holdings in copper by 4.4 percent to 23,011 U.S. futures and options in the week ended March 22, according to Commodity Futures Trading Commission data released three days later. As recently as late February, the investors were net-short, or wagering on price declines. Futures fell 2.3 percent to $2.229 a pound last week on the Comex in New York, the biggest loss since Feb. 12. The metal was at $2.2475 on Monday.
There are few signs that the surplus, which Goldman Sachs Group Inc. predicts will last through 2019, is ebbing. Codelco, the world's biggest copper producer, boosted output by 3.6 percent last year as cost cuts kept the mines running, the company said last week.
As supplies keep flowing, consumption is easing. In the U.S., where users in areas from plumbing to communications have been switching to cheaper, better substitutes, demand has tumbled by more than a quarter in the 10 years through 2014, the Copper Development Association estimates. In China, demand growth is seen slowing to 2.2 percent this year, from 2.8 percent in 2015, He Xiaohui, analyst at Beijing Antaike Information Development Co., said March 18. Goldman is even more pessimistic, predicting zero growth in the nation's use this year.
SocGen Outlook
Societe Generale SA this month recommended shorting copper amid a sharper than expected slowdown in China and "downside risks to demand and oversupply." Morgan Stanley on March 15 cut its 2016 price forecast by 3 percent, saying the uncertain global macro environment remains a key bear risk for the metal after a recent modest recovery.
Copper has rebounded since trading at a six-year low in January as a weaker dollar made commodities priced in the currency more attractive to importers and investors. The negative correlation between copper and the dollar is the strongest since 2013.
"It is difficult to just shut off supply, particularly when there are companies that have obligations like debt obligations to cover," said Jack Ablin, the Chicago-based chief investment officer of BMO Private Bank, which oversees about $66 billion. "It does make it problematic, even if the cost of production is higher than the commodity itself."
Before it's here, it's on the Bloomberg Terminal.
LEARN MORE