Hottest Emerging Market for Algo Trades Wants to Cool Down
by
Rapid computer trading is 40% of India's stock-market volumes

Regulator and exchanges looking at ways to rein in excesses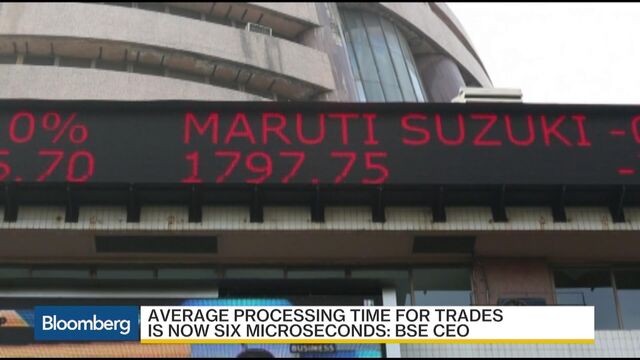 India's flash boys are discovering that even the biggest emerging market for computerized trades has its limits.
In just five years, high-speed and algorithmic traders have gone from bit players to a dominant force on Indian exchanges, enabled by a technological arms race between the nation's top exchanges that cut transaction times to tiny fractions of a second. Now, as some of the country's largest brokerages call for tighter regulation, those same bourses are starting to explore whether speed traders should be reined in.
National Stock Exchange of India Ltd. is considering higher fees for traders who flood the market with unfilled orders, while its cross-town rival, the BSE Ltd., has called for "corrective action" to address the harmful side effects of high-speed strategies. Critics of India's supercharged market structure say it's raising costs for long-term investors, introducing little-understood risks and distracting exchanges from what should be a priority: getting more of India's 1.25 billion people to put their savings to work in the country's capital markets.
"It seems that man is losing out against the machine," said Jitendra Panda, a governing board member of the Brokers Forum, an association of 800 broker-dealers in India. The group is gathering feedback from its members and plans to submit recommendations on how to improve rules on high-speed trading to the nation's market regulator, said Panda, who is also a managing director at Peerless Securities Ltd. in Kolkata.
Natural Fit
While the debate over high-speed strategies is by no means unique to India, the country stands out for the rapid growth of computerized trading and its outsized role in local markets. The nation's high-frequency and algorithmic transactions now account for 40 percent of total volumes, the highest proportion in the developing world and up from the low single digits five years ago, according to Danielle Tierney, senior analyst at Aite Group, a Boston-based consulting firm.
As home to some of the world's biggest technology companies and top engineering universities, India is a natural fit for high-speed investment strategies. Among the local computerized traders are Estee Advisors Pvt., Quadeye Trading, LLC. and Acceletrade Technologies Pvt. Their rapid growth in recent years is thanks in large part to a push by the NSE and BSE to lure high-speed traders.
World's Fastest
Both bourses have introduced co-location services -- allowing traders to put their computers in exchange data centers so they can execute faster -- and offered monetary incentives for derivatives transactions. India's fragmented markets, where many of the same securities trade on multiple venues, also makes it attractive to high-frequency traders looking to arbitrage price differences. In October, the BSE reduced its average processing time for trades to 6 microseconds from 300 milliseconds, the fastest worldwide, according to Ashishkumar Chauhan, BSE's chief executive officer.
While Chauhan says India has been among the world leaders in setting regulatory standards for high-speed trading, he sees scope for creating a more level playing field.
"We are doing a lot of HFT compared to the size of market and we need a clear understanding of the risk," Chauhan said in an interview. "We need to take corrective action so that the good part of HFT is maintained and the harm that can come can be reduced to the maximum extent possible."
At NSE, officials are studying higher fees for customers who have a high ratio of orders to trades. The bourse may also introduce measures to discourage investors from pushing too much data traffic to its venues, said V. R. Narasimhan, chief of regulations at the bourse.
Important Benefits
Exchange officials are quick to point out that their goal is to accommodate all types of investors and that computerized trading has brought important benefits to Indian markets, including smaller spreads and higher trading volumes.
But detractors claim that those measures don't tell the whole story. They say some high-frequency traders are profiting unfairly at the expense of long-term investors by spotting their orders, then pushing up prices before the slower trader has time to react.
"Investors are being forced to pay more to buy or sell stocks due to HFT and algo systems," said Panda.
He's also worried that high-speed traders don't have adequate risk-management systems in place. One sign of the market's vulnerability came in 2012, when the NSE Nifty index of 50 large-cap companies briefly fell 16 percent amid speculation computer-driven trades had sparked a sell-off.

The NSE is "continuously addressing concerns about different HFT models and their potential to distort markets," Narasimhan said.
The Securities and Exchange Board of India, which issued broad guidelines on computerized trading in 2012 and 2013, said in December it's considering new restrictions, but has so far taken no action. The topic wasn't discussed at a March 12 board meeting, according to a person with knowledge of the discussions.
Among the proposals are a "lock-in" to prevent traders from canceling an algo order for a given period of time, the creation of separate channels for algo and manual orders and the adoption of a so-called adaptive micro auction system that blunts the advantages of the fastest traders.
For Deven Choksey, managing director of Mumbai-based K.R. Choksey Shares & Securities Ltd., India's stock market would be better served if exchanges focused on attracting more of the nation's growing pile of household savings instead of luring ever-faster traders and the higher fee income they bring. The base of individual investors has shrunk from about 30 million in 1991 to less than 25 million today, BSE's Chauhan said.
"Exchanges won't be able to help channelize household savings into the capital markets if their focus is only profit maximization," Choksey said. "We will invite trouble if there's no structural solution."
Before it's here, it's on the Bloomberg Terminal.
LEARN MORE