'Batman v Superman' Boosts Warner's DC Franchise in Debut
by
`People excited to see this mash-up,' ComScore analyst says

This is First of 10 DC superhero movies planned through 2020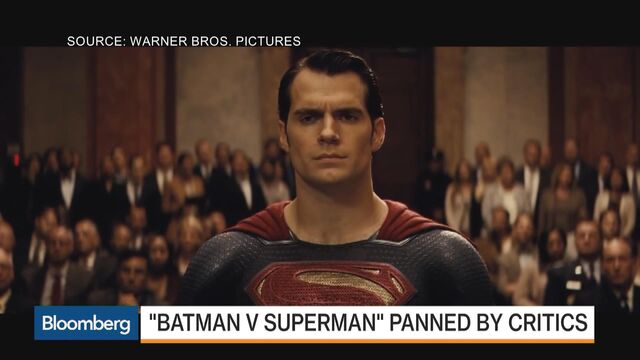 "Batman v Superman," the first of 10 superhero movies planned by Warner Bros., opened with weekend sales of $166.1 million in North American theaters, giving the studio a new foundation for future action films based on its DC Comics.
The movie, which features Ben Affleck and Henry Cavill in the title roles, vaulted to the top of the box-office charts in the U.S. and Canada, researcher ComScore Inc. said Sunday in a statement. BoxOffice.com had raised it forecasts to $172 million in weekend sales, while the Hollywood Stock Exchange was forecasting $170 million. The film set a record for a DC Comics movie and marked the studio's second biggest debut overall, after "Harry Potter and the Deathly Hallows Part 2," according to Box Office Mojo.

"That's exactly what they needed to reboot this DC universe," said Jeff Bock, senior box office analyst at Exhibitor Relations Co.
DC Comics characters are a cornerstone of Warner Bros.' film slate through 2020, along with Lego features and a new wizard series from "Harry Potter" author J.K. Rowling. The studio is counting on "Batman v Superman: Dawn of Justice" to serve as a launching pad and help win over fans who have flocked to Marvel pictures from Walt Disney Co.
"It's a great way to launch our next program of movies," said Jeff Goldstein, executive vice president for domestic distribution at Warner. "It's OK to breathe," he said, noting the relief of the results after the studio's "big financial and emotional investment."
March Record
The movie topped the previous record for a March weekend debut in North America, set by the original "Hunger Games" movie in 2012, ComScore said.
How the film fares in subsequent weeks and outside the U.S. will be big factors in determining whether the effort to create a DC universe of films is off to a good start. Wade Holden, an SNL Kagan analyst, estimates "Batman v Superman" needs to take in $1.15 billion in worldwide ticket sales to be as profitable as the Marvel films or the earlier "Dark Knight" movies from Warner Bros.
A $400 million domestic total for "Batman v Superman" is "not out of the question," Bock said. Competition in North American theaters will be light until mid-April. The next superhero movie to hit the screens won't be until May 6, when Disney's "Captain America: Civil War" debuts.
China Release
The timing of the debut was important overseas as well, Goldstein said. The studio was able to simultaneously release the movie in China, contributing to $254 million outside the U.S., in the biggest opening weekend ever for the genre in foreign markets, Warner Bros. said.
Despite a roasting of the film by most critics, analysts at Boxoffice.com increased their forecasts for the first weekend from $159 million this week, after online ticket seller Fandango said "Batman v Superman" had the strongest advanced sales of any superhero film. The studio had been expecting $100 million to $140 million for the domestic debut.
"Irrespective of the reviews, people are totally excited to see this mash-up," said Paul Dergarabedian, senior media analyst at ComScore Inc. "The concept is bigger than the reviews."
General Zod
"Batman v Superman" picks up where director Zach Snyder's 2013 Superman origin story "Man of Steel" left off. Superman, played by Cavill, has been battling with his foe General Zod, resulting in the destruction of Metropolis. Instead of being seen as a hero, some start to see Superman as a threat to humanity leading to the telegraphed battle with Batman, played by Affleck for the first time.
Jesse Eisenberg plays Lex Luthor, who is planning a new threat to the world. Amy Adams returns as Lois Lane, and there are cameos by other DC characters including Wonder Woman, played by Gal Gadot, ahead of her standalone movie next year.
Just 31 percent of reviewers like the movie, according to Rottentomatoes.com, which aggregates critical notices. The movie was criticized by some reviewers for seemingly trying to repair storylines from "Man of Steel" that stoked controversy among comic book fans, and for being boring.
'Creative Exhaustion'
"Entertainment is less the goal than the byproduct, and as the commercial reach of superpower franchises grows, their creative exhaustion becomes ever more apparent," A.O. Scott wrote in the New York Times. He described the film as "not so much a 'dawn' as an entire morning spent watching the clock in anticipation of lunchtime."
Kenneth Turan, critic for the Los Angeles Times, was more positive, writing the film is "a nice echo of Warner's past as a home to gangsters and gritty melodramas."
Warner Bros. didn't comment on its production costs for the movie. Barton Crockett, analyst at FBR & Co., estimated a $250 million production budget and another $200 million spent globally marketing the picture.
Comcast Corp.'s Universal Pictures was targeting a different audience with the only other new wide release of the weekend, "My Big Fat Greek Wedding 2." The sequel to a 2002 movie took in $18.1 million to place third, according to ComScore.
Before it's here, it's on the Bloomberg Terminal.
LEARN MORE