Brussels Airport Passenger Flights Won't Resume Before Tuesday
by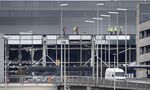 Brussels Airport won't reopen before Tuesday as investigators continue to assess the damage from terrorist bombings at the terminal four days ago.
Passenger flights into and out of the airport in the Brussels suburb of Zaventem will be suspended at least until March 29, according to a statement on its website.
"Until we have assessed the damage, it remains unclear when we can resume operations," the airport said.

Suicide attackers exploded bombs in the airport's departure hall on March 22, killing 11 people and injuring more than 80. The blasts collapsed the ceiling, shattered windows and destroyed the Brussels Airlines check-in area.
Brussels Air, whose operations are based in Zaventem, is moving 21 aircraft elsewhere in an effort to resume flights. The carrier is relocating the planes mainly to the Belgian cities of Antwerp and Liege, and is moving six long-haul airliners to Frankfurt and Zurich.
Ryanair Holdings Plc, the biggest foreign carrier at Zaventem, is focusing all its Belgian services on its hub at Charleroi, south of Brussels.
Before it's here, it's on the Bloomberg Terminal.
LEARN MORE