business
Stock Trading Comes to Myanmar With First Company Listing
By and
First Myanmar Investment shares climb 19% on Yangon debut

Five more stocks to be added to the bourse later this year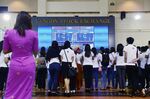 After a delay of more than 20 years, Myanmar's stock exchange opened for its first day of business, with the trading of a single company.
First Myanmar Investment Co., a conglomerate controlled by businessman Serge Pun, made its stock debut in Yangon on Friday, ending a long wait caused by the Asian financial crisis, a wary military government and an underdeveloped financial system. The move comes as the country's development accelerates with a democratic government being formed after an election victory in November, part of a political and economic transformation that's bringing an end to more than five decades of isolation. 
"The debut is an important milestone because a stock market is a vital ingredient for economic development," Karine Hirn, a Hong Kong-based partner of East Capital Asset Management, which invests in emerging and frontier markets, said by e-mail. "However, whether it will be successful or not depends on the willingness of the government to prioritize it."
The listing debut was attended by First Myanmar's Pun and officials including Maung Maung Thein, the country's deputy finance minister and chairman of the Securities and Exchange Commission, who called it "an historic day in the development of the capital markets."  
First Myanmar climbed 19 percent to a daily limit of 31,000 kyat with 112,845 shares changing hands on Friday, according to the stock exchange's website. The bourse set the stock's base price at 26,000 kyat, according to its statement.
First Myanmar, Myanmar Citizens Bank and Myanmar Thilawa SEZ are among the initial batch of six companies approved for listing, Maung said in December.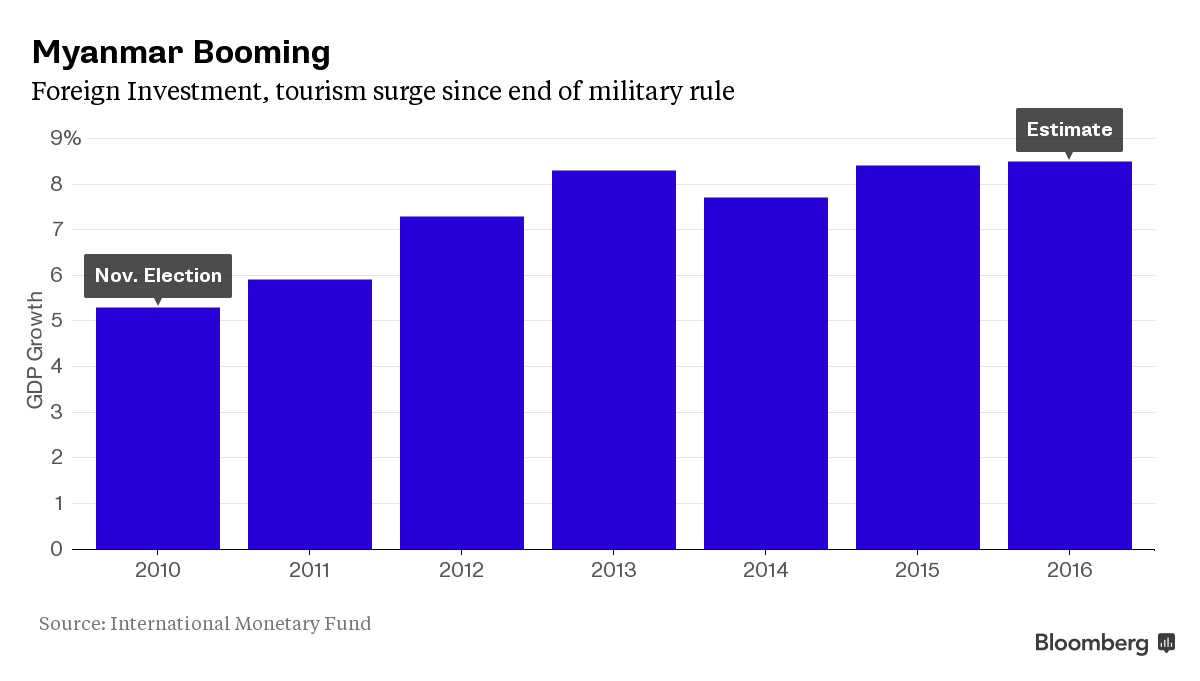 Myanmar's equity-market journey began in the early 1990s, when executives from Daiwa Institute of Research Holdings, a unit of Japan's second-largest brokerage, met with the nation's military rulers in Yangon. Their initial target was to start a bourse by 2000. The region's financial crisis soon derailed those ambitions and it wasn't until 2011, after the quasi-civilian government began opening up Myanmar's economy, that the exchange plan was revived.
As Myanmar emerges from economic isolation, it will need $80 billion of power, transport, and technology projects through 2030 to modernize its economy, according to the Asian Development Bank. Buoyed by a flood of foreign direct investment, the ADB estimates the economy expanded about 8.3 percent last year and will grow nearly the same pace in 2016. 
New Cabinet
On Thursday, Myanmar's parliament approved Aung San Suu Kyi and 17 other nominees to take positions in the incoming government's cabinet, following her National League for Democracy party's landslide victory in November's election.
Foreign investors will be able to trade on the exchange once Myanmar's new government, which takes office next week, passes revisions to the country's companies law, the Myanmar Times reported in December, citing SEC head Maung. The SEC hasn't said whether foreign investors will face any investment restrictions.
"There are a lot of international investors looking at Myanmar right now but they were so far frustrated not to have the ability to invest in Myanmar equities with the exception of some stocks listed somewhere else," said Thomas Hugger, chief executive officer at Hong Kong-based Asia Frontier Capital Ltd., which oversees about $40 million of assets. "This is changing now finally."
(
Adds share performance in fifth paragraph.
)
Before it's here, it's on the Bloomberg Terminal.
LEARN MORE