Brussels Suspect Shot in Terror Raid Amid Fears of More Attacks
by
Second airport bomber identified as Paris attacks suspect

Mariah Carey cancels concert planned for Sunday in Brussels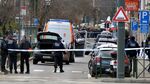 Belgian special police forces shot a suspect in the Brussels suicide attacks during a frantic day of house raids as counter-terrorism probes advanced in several European countries amid fears of further assaults.
The man shown with a leg wound on amateur videos in Brussels was among nine people taken into custody late Thursday and Friday in the Belgian capital, which is on edge after the murder of 31 people on Tuesday. The video also showed a small girl being coaxed away from the scene.
Belgian prosecutors said DNA analysis confirmed that the second suicide bomber in the Brussels airport departure hall was Najim Laachraoui, who was also sought in connection with the Paris attacks in November. His DNA was also found on explosive devices used at the Bataclan concert hall and the Stade de France, targets of the Nov. 13 assaults, prosecutors said.
U.S. Secretary of State John Kerry, who visited Brussels on Friday to commemorate the victims, said setbacks that Islamic State is suffering on the battlefield in Syria and Iraq are driving the fundamentalist group to escalate its offensive against civilians in Europe.
French President Francois Hollande warned that even if the terrorism network behind the attacks in Paris and Brussels "is being wiped out, there's still a threat weighing on us," Agence France-Presse reported. "We know there are other networks," Hollande said Friday evening in Paris.
Amid the warnings that Islamic State is poised to strike again in European cities, singer Mariah Carey canceled a concert planned for Sunday in Brussels. Carey was scheduled to perform at an arena in the borough of Forest, where a gunman was killed in an earlier counter-terrorism raid on March 15.
The identity of the man detained in the Schaerbeek district of Brussels on Friday wasn't disclosed. Bernard Clerfayt, Schaerbeek mayor, told broadcaster RTBF that the suspect was linked to the March 22 attacks at the airport and a downtown subway station. Agence France-Presse reported a connection to a plot foiled on Thursday in suburban Paris.
German Arrest
German police arrested two men in connection with the Brussels attacks, in the Giessen and Dusseldorf regions, Spiegel reported without saying how it obtained information.
Belgian Justice Minister Koen Geens said Paris attacks suspect Salah Abdeslam, in Belgian custody since March 18, has stopped talking to investigators since the March 22 attacks.
Six of the nine people detained in the latest Brussels sweep remained in custody. One who was identified by prosecutors as Faycal C. may have been the man in a cream-colored jacket seen leaving the airport on security cameras, Le Soir newspaper reported.
Before it's here, it's on the Bloomberg Terminal.
LEARN MORE