markets
The Post-Crisis 'Fed Effect' for Stocks is Fading
Another strike against central bank efficacy.
By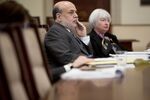 It's accepted as conventional wisdom that accommodative monetary policy has been a boon for stocks.
Citigroup Inc.'s Matt King has argued that global liquidity has been driving equity markets around the world. On a more rudimentary level, a number of analysts have also drawn attention to the strong correlation between the Federal Reserve's balance sheet and the S&P 500.
But in a new white paper, strategists at Grantham, Mayo, Van Otterloo & Co., an asset allocation team known for its bearish bent, break down the extent to which the Fed may have juiced investor returns—not by easing policy, but merely by meeting.
James Montier and Philip Pilkington observed that since 1984, days on which there have been policy announcements by the Federal Open Market Committee have accounted for more than 25 percent of total real returns:

In an ironic twist, Montier and Pilkington note that their method of quantifying the U.S. central bank's contribution to equity market returns was inspired by a paper published by economists at the New York Fed.
Moreover, this Fed effect was particularly acute from 2008 to 2012, a period in which its asset purchase program of quantitative easing (QE) was in full effect.

"Average returns on FOMC days in this period were phenomenally high; some 29 times higher than on the average day, testimony to the impact of QE and 'unconventional monetary policy upon the market's behavior," the strategists hypothesize.
The outsized returns that have coincided with Fed announcements can't be explained by the fact that, over this time horizon, policy rates have been trending downwards. According to Montier and Pilkington's analysis, there was no statistically significant difference between gains accrued during days on which the Fed cut or raised rates.
For investors, the most actionable and potentially unnerving aspect of GMO's report is the observation that this 'Fed effect'—while still significant—has declined back to pre-recession norms.
"More recently, the impact the Fed is having on the market has shrunk back to its 'normal' post 1980s level accordingly," the authors write. "Evidence of QE fatigue perhaps?"
As such, the strategists doubt that future Fed meetings will be sufficient to keep stocks buoyant.
"Betting on the Fed's ability to generate continued market levitation seems like a dangerous game to us, but as Newton long ago opined, 'I can calculate the motion of heavenly bodies, but not the madness of people,'" they conclude.
Before it's here, it's on the Bloomberg Terminal.
LEARN MORE