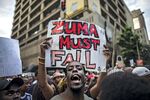 As if his country's 25 percent unemployment rate, stagnant economy, and deteriorating credit rating weren't bad enough, South African President Jacob Zuma faces a political graft scandal that threatens to wreck the party of Nelson Mandela. With more than 60 percent of the vote in every parliamentary election since 1994, the African National Congress remains the top political power in South Africa. Yet internal divisions are pitting the forces of fiscal discipline, represented by Finance Minister Pravin Gordhan, against the pro-Zuma camp, which has less regard for investors and financial markets.
Over the past few years, Zuma has drawn fire over the slow pace of government reform and a mounting number of scandals and missteps, including the appointment of an inexperienced finance minister that led to a sudden 10 percent decline in the rand, the country's currency. The tension peaked on March 16, when Deputy Finance Minister Mcebisi Jonas claimed that three brothers who are Zuma's personal friends had offered him a promotion to finance minister. The Gupta brothers, who have built mining, engineering, and media businesses since arriving from India in the 1990s, denied the allegation. They've been connected with Zuma since 2000, and Zuma's son Duduzane is a shareholder in several of their businesses. Zuma recently thanked the Guptas for working with his son but said there was nothing untoward about their relationship and that he alone appoints the country's ministers.
Some senior ANC officials say they've had enough of the litany of scandals tarnishing the party's name. ANC Secretary General Gwede Mantashe, who masterminded Zuma's party election victories in 2007 and 2012, recently warned that South Africa was at risk of becoming a "mafia state."
"This is the most difficult situation we've had to manage in the last 20 years," says Abdul Waheed Patel, a Cape Town-based political analyst with Ethicore, a political advisory service. "Given the political situation and the balance of forces in the ANC, I don't see any resolution of this in the short term."
The political strife comes as South Africa faces its worst economic crisis since apartheid ended in 1994. In December, Standard & Poor's cut its outlook on the country's credit rating to negative. The next step is junk, which would raise South Africa's already high borrowing costs and worsen the blow that low commodity prices have dealt to Africa's most industrialized country. Last month, the World Bank said that South Africa's economy is "flirting with stagnation, if not recession."
Under the latest budget, presented by Gordhan in February, government debt will rise to more than half of gross domestic product this year, nearly double the ratio when Zuma took office in 2009. A much-vaunted plan to boost growth by cutting regulation and raising infrastructure spending has had little impact since it was conceived in 2011. Economic growth has not exceeded 1.5 percent for the past two years.
The government has even had trouble keeping the lights on: The country had daily power outages in the first half of 2015 as the state power utility, Eskom, struggled to fund repairs. Things have improved since then, with no outages for the past six months, but that has more to do with a lack of demand than anything else. "The issue isn't that Eskom has magically turned around," says Shaun Nel, a spokesman for South Africa's Energy Intensive Users Group, which represents the country's largest power consumers. "The issue is that demand has fundamentally collapsed." Power generated by Eskom's plants last year fell to the lowest level since 2006. Eskom says that demand has dropped but not drastically.
Since winning reelection as party leader in 2012, Zuma has strengthened his hold on power with the help of a loyalist executive committee and by bringing the state security apparatus more closely under his watch. A two-term limit as president means he can serve only until 2019. A third term as ANC party leader would be possible at the end of next year, but the past three months have left him considerably weakened.
Zuma has proven to be a survivor. During the struggle against apartheid, he was the ANC's intelligence head and spent a decade imprisoned on Robben Island with Mandela. He has since weathered corruption charges and was acquitted in a rape trial. This is the most pressure he's been under in his nine years as party leader and his seven years as the nation's president.
Tough months lie ahead. The ANC may lose control of a couple of cities in local elections. South Africa's highest court is ruling on whether Zuma violated the constitution by ignoring directions from an anti-graft ombudsman to pay back state funds put toward an upgrade to his home. A credit-rating downgrade could come as early as June.
The bottom line: A political scandal in South Africa is adding to the country's economic problems, as low commodity prices hit the mining industry.
Before it's here, it's on the Bloomberg Terminal.
LEARN MORE