New Zealand Rejects Flag Change, Retains U.K.-Themed Incumbent
By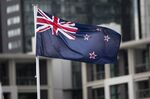 New Zealanders have rejected a change of the national flag, voting to retain the Union Jack-emblazoned incumbent.
Preliminary results of a postal referendum show 57 percent of voters prefer the current flag and 43 percent wanted to switch to the contender, the Electoral Commission in Wellington said Thursday. The current flag features the U.K.'s Union Jack in its top left corner while the alternative had a silver fern, the emblem worn by many New Zealand sports teams including the All Blacks.
The referendum was championed by Prime Minister John Key, who argued New Zealand's colonial era had passed and it needed a distinctive flag that wasn't so similar to the U.K.'s and Australia's. The existing flag was legally introduced in 1902, 62 years after the Treaty of Waitangi brought New Zealand into the British Empire. The South Pacific nation ceased to be a British colony in 1907.

While many New Zealanders were open to flag change, critics lambasted the design of the alternative, saying it looked more like a tea towel.
"The option for a new flag is so historically rootless and culturally banal it is embarrassing," Bruce Logan wrote in a column for the New Zealand Herald last month. "It is as superficial as a television bank advertisement."
Much of the criticism centered on the decision to seek designs for an alternative from the general population and none from professional designers. Key's political opponents also claimed the NZ$26 million ($17 million) spent on the process could have been put to better use.
The referendum result is no surprise. Polls showed almost two thirds of voters wanted to retain the current flag, with support for it strongest among younger New Zealanders.