Autos
Koenigsegg's $2 Million Bugatti Killer Strikes With Over 1,500 Horsepower
By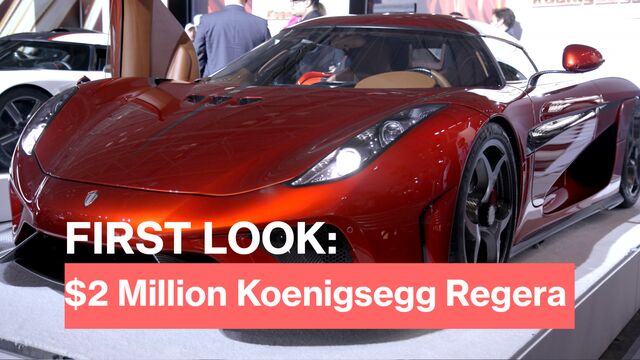 At the New York Auto Show on Thursday, Koenigsegg showed its $2 million Regera "hypercar" for the first time ever in the United States.
It's a big deal because while the small Swedish company has never had much of a presence stateside, it is billing this futuristic coupe as the ultimate "Bugatti killer."
"There is something very natural about it, very intuitive," company founder Christian von Koenigsegg said during the unveiling. "And it's attainable. We can reach 200 miles per hour in 0.6 miles. And that's pretty much unheard of. So if you have a racetrack with that straight, you can go 200 miles per hour pretty easily. So it's attainable speed, attainable power."

Indeed, the 1,500-plus-horsepower Regera combines three electric motors with a traditional combustion engine: There is a 1,200-horsepower twin turbo 5-liter V8 (attached to one of the electric motors), plus two electric motors at the back wheels that help produce a combined 720e horsepower. Von Koenigsegg boasted that despite the 1,500-plus-hp official report, the true power rating may be closer to 1,800.
Regera also has a unique direct drive system that replaces the traditional transmission system.
"This is the only combustion-engine sports car I know that doesn't have a transmission," von Koenigsegg said, adding that he had the idea for the car years ago but developed the necessary technology only recently. "The engine is also directly connected to the rear axle. That was possible because of the electrification."

At 3,000 pounds, with carbon fiber construction and totally automatic doors and rear half, the Regera is still extremely light.
"To keep the car light, we didn't want to add things we don't need," von Koenigsegg said. Translation: While the car has Apple Car Play and Internet access inside, don't expect to see a cup holder.
That devotion to shedding ounces helped give the car a seamless acceleration to its top speed of 248 mph, which it can hit in just under 20 seconds. Zero to 60 mph takes 2.8 seconds. Those specs aren't quite as impressive as Bugatti's new Chiron (288 mph top speed and 2-second-flat sprint time), but von Koenigsegg said it's the nuance that makes the difference.
"No other car can go faster up to 230 mph—or in such a short distance," he said.
Look for the Regera to come on sale at the Manhattan Motorcars dealership later this year. The plan is to build 80 of them; half have already been sold. 











Before it's here, it's on the Bloomberg Terminal.
LEARN MORE