Italy Bank Merger Sparks Analyst Skepticism as Shares Decline
by and
Banco Popolare agreed to take over Banca Popolare di Milano

New bank will cut nominal non-performing loan exposure to 19%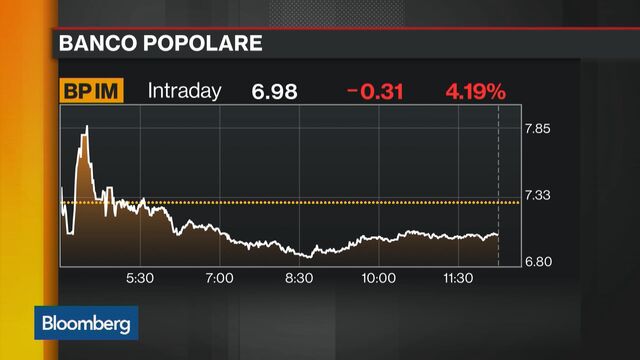 Banco Popolare SC and Banca Popolare di Milano Scarl dropped after the lenders agreed to form Italy's third-largest bank, with analysts signaling skepticism about plans to cut costs and raise capital.
The two lenders on Wednesday ended weeks of deliberations, saying they agreed to combine in an all-stock deal that will give Banco Popolare investors a 54 percent share of the new lender. Banco Popolare, which has to tap investors for 1 billion euros ($1.1 billion) before the deal can be completed, fell 4.5 percent at 4:31 p.m. in Milan, while Popolare Milano lost 4.7 percent.
"All synergies will be realized by 2018, which is an incredibly short period of time," Johan de Mulder, an analyst at Bernstein Global Wealth Management, said by e-mail. "And they will be realized without forced headcount reductions. These are overly optimistic assumptions."
The combination is the biggest bank deal in Italy since Banca Monte dei Paschi di Siena SpA's 9 billion-euro acquisition of Banca Antonveneta SpA from Spain's Banco Santander SA in 2007. It will create a lender with a market value of about 5.7 billion euros, 171 billion euros of assets and more than 25,000 employees. The two banks expect pretax synergies of 365 million euros in 2018.

Popolare di Milano Chief Executive Officer Giuseppe Castagna will oversee the combined company, while Banco Popolare Chairman Carlo Fratta Pasini plans to maintain the same role, the banks said. The lender, whose name has yet to be determined, will be based in Milan with legal headquarters in Verona.
The new bank will cut its bad loans by 10 billion euros by 2019, lowering the nominal non-performing exposure ratio to 19 percent from 24.8 percent, Castagna told analysts at a conference call on Thursday. Proceeds from the share sale will be used to increase the bad-loan coverage ratio, he said.
"There's a question mark regarding their ability to raise profitability as well as uncertainty related to the terms of the capital increase," said Gianni Piazzoli, head of advisory at Anthilia Capital Partners SGR SPA.
The European Central Bank has increased pressure on Italian lenders to clean up balance sheets, consolidate through mergers and tackle an estimated 360 billion euros of troubled and defaulted loans that are undermining lending. Prime Minister Matteo Renzi's government is counting on acquisitions to modernize the industry and help the euro-area's third-largest economy recover from a three-year recession.
Collectively, popolari represent about 25 percent of Italian deposits and loans, according to Assopopolari, their industry group.
Mediobanca SpA and Bank of America Corp. agreed to underwrite the fundraising, which may come in one or more tranches and involve shares and convertible bonds. The capital increase should be completed by October.
"The announcement is clearly positive, for the two banks and for the sector,"Aldo Comi, an analyst at MainFirst Bank AG, wrote in a note. "The ECB's approach on corporate governance seems to have been less strict than feared, which could incentivize mergers and acquisitions among the other popolari banks."
Before it's here, it's on the Bloomberg Terminal.
LEARN MORE