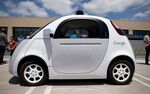 In the U.S., the federal government oversees car safety, while states handle the drivers. That worked fine until the cars started becoming the drivers. The bellwether legal framework for fully self-driving cars is in the hands of the California Department of Motor Vehicles. The department's draft rules, released in December, would force autonomous cars to look a lot more like today's models than the podlike designs Google and others are testing. The state wants to keep the steering wheel, brake pedals, and a licensed driver, among other things.
To head off California, Google has shifted its lobbying to the federal stage, asking Congress to put regulatory authority firmly in the hands of the U.S. Department of Transportation. "Congressional action is needed," Chris Urmson, director of Google's self-driving car project, told the Senate Commerce Committee on March 15. "If every state is left to go its own way, it would be extremely impractical to operate an autonomous vehicle across state boundaries."
Google has reason to expect its cars will find favor with federal regulators, which blame humans for 94 percent of auto crashes. At this year's Detroit Auto Show, Secretary of Transportation Anthony Foxx said he'd proposed a 10-year, $3.9 billion funding package for self-driving vehicles and that the National Highway Traffic Safety Administration, a Transportation Department agency, would work with states to develop a model policy. NHTSA in February told Google it considers the company's software a driver.
Without changes, existing federal motor safety standards would require car designs similar to those outlined by the California DMV, according to a March 11 department report. Google worries it would take NHTSA years to finalize rules without a congressionally authorized shortcut. But the senators assembled at the Commerce Committee hearing seemed bullish. "Federal and state governments may need to rethink how they regulate and license vehicles for the future," said Chairman John Thune (R-S.D.). "We must be careful not to stymie innovation because of a lack of imagination."
Within a decade, 1 in 8 cars sold around the world will have autonomous features, making them a $42 billion-a-year market, Boston Consulting Group estimates. Xavier Mosquet, a senior partner for BCG's automotive practice, says perfecting the technology requires mass experimentation, which in turn requires consistent legal standards.
Improving car designs through trial and error shouldn't be the public's task, says John Simpson, an advocate at nonprofit Consumer Watchdog. Google's test cars have logged more than 1 million miles on public roads over the years yet still occasionally need drivers to take over to avoid a crash. During the Senate hearing, Duke University robotics professor Mary Louise Cummings warned that self-driving cars aren't ready for mass deployment and said NHTSA shouldn't issue standards for them anytime soon. "There is no question that someone's going to die in this technology," she said. "The question is when and what can we do to minimize that."
The feds aren't moving at lightning speed; NHTSA has planned some public meetings over the next few months. For now, Silicon Valley lobbying group TechNet says it's tracking about 80 state bills that could affect autonomous vehicles. "Clearly some of them are going to be competing with California in terms of trying to be the research bed or the deployment bed of self-driving vehicles," says David Strickland, a former NHTSA head who lobbies for the law firm Venable.
During March's annual South by Southwest conference in Austin, Mayor Steve Adler welcomed other U.S. mayors to the city to show off the podlike Google cars crawling around the state capital. In Utah, state Representative Robert Spendlove has proposed legislation to study autonomous designs and says he hopes his state will be more lenient than California. He wants to be "encouraging the testing, encouraging the operation," he says, "rather than being really heavy on regulation."
The bottom line: Google is pushing for federal preemption of laws on self-driving cars, though some states are eager to get them on the road.
Before it's here, it's on the Bloomberg Terminal.
LEARN MORE