EU Pledges Better Terrorist Tracking After Brussels Attacks
By and
Splintered intelligence systems hamper Europe-wide policing

Belgium given 'important' leads for bombing investigation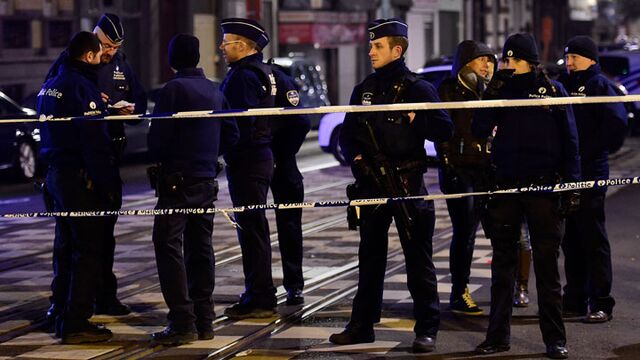 Shaken by the Brussels terrorist attacks, European Union governments pledged to step up surveillance and plug holes in criminal databases that have allowed jihadist plotters to operate undetected.
Europe faces greater hurdles than the U.S. after the September 2001 attacks in hunting terrorists-in-the-making because EU intelligence gathering is splintered among 28 countries with little experience of sharing secrets.
EU interior ministers vowed on Thursday to speed up anti-terrorism measures at a meeting a quarter-mile from the Brussels subway stop that was one of the scenes of the suicide bombings that killed 31 people on Tuesday. Suspects were linked to the Paris murders of 130 in November.
"These horrendous attacks cannot continue to be wake-up calls forever," EU Home Affairs Commissioner Dimitris Avramopoulos told reporters after the interior ministers met.
Belgium meanwhile continued to search for suspects in Tuesday's attacks, presumed to have been directed by a man in a cream-colored jacket seen wheeling a baggage trolley on a security camera shortly before the explosions at the Brussels airport departure hall.
'Important Information'
Belgian Justice Minister Koen Geens said he came away from the meeting with "very important information" on the probe provided by colleagues from at least three other governments.
Privacy concerns and national jealousies have slowed EU-wide tracking. Proposals to meld separate "data pots" used by customs, immigration and security services into a single database will be made by June, but will face legal and technical hurdles, German Interior Minister Thomas de Maiziere said.
Faster progress is likely on a "data platform" for intelligence services that captures "terrorists who are in Europe, who have come to Europe and who have returned to Europe," De Maiziere said. It will be up and running by midyear, he said.
As things stand, individual European governments maintain massive files of people with criminal records, some with jihadist leanings, but overstretched intelligence and crime-fighting agencies struggle to connect the dots in realtime.
'Long Time'
Europe needs "a complete flip-around in the focus on intelligence, on policing, and also connecting intelligence to police -- that's not something that most continental European countries have much experience doing," Robin Niblett, director of Chatham House in London, told Bloomberg Television. "It will take a long time to fix."
The knotty trans-national communications problem was thrown into relief when Belgium was accused by Turkey, which straddles the territory between the EU and the Middle East, of failing to monitor one of the Brussels suicide bombers despite warnings from Turkish intelligence.
The rebuke by Turkish President Recep Tayyip Erdogan roiled a Belgian government already plunged into an unprecedented national trauma. Resignation offers by Geens and Interior Minister Jan Jambon were rejected on Thursday by Belgian Prime Minister Charles Michel.
The Turkey-Belgium quarrel put the focus on the underworld of roughly 5,000 people who, according to Europol director Rob Wainwright, have been radicalized in Europe and traveled to Syria and Iraq to experience holy war firsthand.
'Widespread Network'
"We are now uncovering a more widespread network than was first feared," Wainwright told BBC radio.
Europol -- the European Police Office -- was set up in 1993 to tackle cross-border crime, but like most EU coordinating agencies, its powers are limited. Its 2016 budget of 100 million euros ($112 million) is less than the staff and administrative expenses of the European Commission's education and culture department.
The EU has built up a prodigious array of legal precedents dating back to the 1950s that put the emphasis on the rights of citizens to live, work and travel across the bloc and on privacy protections.
The crime-fighting and counter-terrorism side of the equation was left mainly in national hands. Ten days after the September 2001 attacks, EU leaders committed to provide "systematically and without delay, all useful data regarding terrorism" to Europol.
Almost 15 years later, intelligence sharing "is meager, to put it mildly," European Commission President Jean-Claude Juncker told Le Soir newspaper.
The fate of air-passenger tracking proposals is an example. The U.S. required airlines to profile trans-Atlantic passengers after September 2001, but a similar system for flights within Europe was stalled for years by privacy advocates.
That changed in January 2015 with the killing spree at a Paris magazine and kosher grocery store, but even then, the European machinery ground slowly. EU governments took until December to approve the law, which now awaits European Parliament assent. It could take another year for the monitoring system to get going.
The next opportunity for Parliament to pass the legislation is in mid-April. Socialists in the assembly said they would clear the way for a final vote as soon as the governments move to wrap up separate data-protection legislation.