Debris Found in Mozambique Likely From MH370, Australia Says
by
Discovery affirms drift modelling, current search efforts

Pieces are consistent with panels from Boeing 777 aircraft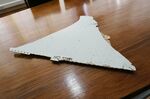 Two pieces of aircraft debris washed up on the coast of Mozambique are "almost certainly" from missing Malaysia Airlines Flight 370, Australia's Transport Minister Darren Chester said.
Malaysian investigators have concluded that both pieces are "consistent with panels from a Malaysia Airlines Boeing Co. 777 aircraft," Chester said in an e-mailed statement Thursday. The discovery is consistent with drift modeling and current search efforts in the southern Indian Ocean, he said.
The aircraft vanished from radars on March 8, 2014, en route to Beijing from Kuala Lumpur. There has been no trace of the 239 people on board, making it modern aviation's biggest mystery. Families of the victims want the hunt to continue even if the current search comes up empty, while investigators say the hunt will end unless fresh clues are found.
Vessels looking for the jet are due to finish scouring 120,000 square kilometers (46,330 square miles) of the southern Indian Ocean by the middle of the year. Authorities still have little idea what took place in the cockpit or why the plane flew off course.
Before it's here, it's on the Bloomberg Terminal.
LEARN MORE