Companies in Middle America Want to Recruit More LGBT Workers
"Once you put a face to an issue, change happens"
By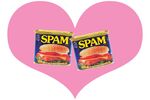 When Hormel Foods added gay pride holidays to its 2012 corporate calendar, there was instant pushback, recalls Larry Lyons, senior vice president for human resources. He received angry e-mails objecting to the decision, and several employees confronted him in person to complain. The calendar, he says, led to "some very difficult conversations that needed to happen" and served as a referendum on Hormel's support of lesbian, gay, bisexual, and transgender workers.
It's common for companies that want to attract younger, more diverse employees, including LGBT workers, to meet such resistance, especially those in the Midwest and the South that aren't in large urban centers. At the same time, industries from oil and gas to construction are facing greater pressure to adopt more open policies.
"We have a sophisticated, new kind of employee who's not just looking at what their salary is going to be but at the environment they're going to be working in every day," says Sarah Kate Ellis, president and chief executive officer of Glaad, an LGBT advocacy organization. "They want that environment to be inclusive, to be welcoming." That's especially true of millennials who've left cities like New York and San Francisco because of the high cost of living.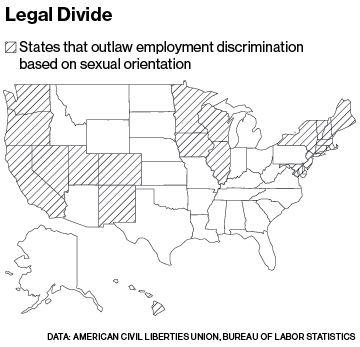 Antigay discrimination is legal in 28 states, representing about 54 percent of workers, according to U.S. Bureau of Labor Statistics data. It's not just the lack of protections that LGBT workers confront; there are 200 bills under consideration in 33 states this year that are considered potentially hostile to gay and transgender people, according to the Human Rights Campaign (HRC), which promotes LGBT equality.
Hormel's calendar was the first sign that wider acceptance would take time, says Lyons, who's been with the Austin, Minn.-based company for three decades. Some executives questioned the need for the changes after the complaints, but CEO Jeffrey Ettinger quickly reiterated his commitment. The company, maker of Spam and Hormel Chili, was partly motivated by HRC's Corporate Equality Index, which scores companies in five categories, including insurance benefits and diversity training. The scale is from 0—not meeting any requirements of an inclusive workplace—to 100—the most welcoming. In 2011, Hormel scored 15. Soon after, the company asked employees for feedback on its policies.
This year, a record 407 companies scored 100; 66 of those, including Hormel, TD Ameritrade, Southwest Airlines, and auto parts maker Eaton, got a perfect score for the first time. Younger workers, no matter what their sexual orientation, want to be part of a diverse workforce, Lyons says.
The decision to offer domestic partner benefits in 2014 was a big moment in Hormel's evolution, as was last year's addition of transgender health insurance coverage—the benefit pushed the company's score up to the top. As the efforts progressed, there was less pushback, though at least one transgender employee experienced vandalism, says Katie Larson, Hormel's director for human resources. Working one-on-one with employees going through gender transitions, she says, has helped her to better understand the challenges they confront. "Once you put a face to an issue, change happens," Larson says.
That's a key first step, says Deena Fidas, director of HRC's workplace equality program. "There's often just a void, or lack of visibility, for a company's LGBT community," she says. Without that visibility, "you're not going to get focused resources or attention from human resources." Change is easier to implement the more a company supports LGBT workers and the more visible those workers are.
Eaton, based in Ohio, a state with no antidiscrimination laws, started work on its HRC score three years ago, when it, too, earned just 15 points, according to Cathy Medeiros, the auto parts maker's first vice president for inclusion and diversity. When she was appointed in 2012, Medeiros says, she'd never heard of the index. Anne Geary, a gay IT project manager, was among the employees who brought the low score to Medeiros's attention. Geary reached out to HRC to discuss the index and ways to improve its policies. With Carolyn Cheverine, an Eaton senior attorney, Medeiros worked to add new insurance coverage and clarified policies regarding LGBT workers. "We deal with it," Medeiros says of the resistance she still gets. "It's part of the journey."
Minnesota is one of 22 states that include sexual orientation among the categories protected from discrimination. But Hormel has 11 manufacturing plants and 14 sales offices in states that don't offer similar rights. That's led a companywide LGBT resource group, HProud & Allies, to start discussions with human resources in all of its offices about the challenges some workers face. Office transfers, for example, can be a source of tension for gay workers who are being asked to move to an office in a state with fewer protections.
HProud, with about 130 members, has monthly teleconferences for employees in scattered locations to join in the discussions. Hormel will soon start what it calls an ambassador program to help identify LGBT workers in remote places who can organize and run events like a recent National Coming Out Day held in Austin—workers across the company joined in via FaceTime on iPads. The initiatives have clearly picked up steam. As Lyons says of Hormel's HRC score: "Our journey from 15 to 20 points up to 70 was more difficult than going up to 100."
Ensuring Hormel's message is consistent throughout the company is important, says Andre Goodlett, corporate manager for diversity and inclusion. "We focus on behavior, not the beliefs," he says. "I can have some impact on your behavior while you're a representative of the company. You can either participate in those behaviors or not. That's a simple choice."
The bottom line: Heartland companies like Hormel and Eaton are expanding benefit programs to attract employees—including LGBT workers.
Before it's here, it's on the Bloomberg Terminal.
LEARN MORE