Belgians, Dutch Point Fingers Over Anti-Terror Intelligence
by
Netherlands had `no suspicions' on El Bakraoui last July

Belgium says no prior notification of deportation by Turkey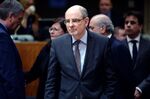 Belgium said it had no advance knowledge of the deportation from Turkey last summer of Ibrahim El Bakraoui, one of the suicide bombers who struck Brussels this week, as the Netherlands said it had no reason to take action when the man landed there in July.
"We weren't warned until after the plane landed at Schiphol Airport," Belgian Justice Minister Koen Geens told reporters in Brussels on Thursday. "The only thing we knew before that, by the end of June, was that he had been arrested. He was expelled without further notice and without telling us he was going to be expelled."
Investigators in Belgium identified El Bakraoui as one of the bombers in the terrorist attacks on Tuesday that left more than 30 people dead in Brussels. El Bakraoui was deported from Turkey on July 14, 2015, to the Netherlands on suspicions he was planning to cross the Syrian border. Geens and Belgian Interior Minister Jan Jambon offered to resign over the issue on Thursday but the prime minister rejected the offers.
Brussels police late Thursday detained six people in raids in several areas of the capital related to the probe of Tuesday's attacks, federal prosecutors said in a statement. The searches were carried out in central Brussels and in the neighborhoods of Schaerbeek and Jette.
Geens was attending a meeting of European Union interior ministers, who vowed to accelerate counter-terrorism measures in the wake of the deadly attacks. Geens said he gathered "very important information" on the investigation into the assaults from at least three other EU governments.
Dutch Justice Minister Ad van der Steur, meanwhile, presented documents to the Dutch Parliament in The Hague on Thursday showing that the Turkish Ministry of Foreign Affairs had sent a message to the Dutch embassy in Ankara 26 minutes before El Bakraoui's scheduled takeoff, saying that El Bakraoui would be on the flight to Schiphol. The note sent to the Dutch embassy didn't say why El Bakraoui was being expelled.
"The note did not contain any information or clarification about the background or about the reason Turkey facilitated the flight," Van der Steur said in a letter to parliament, adding that the Netherlands didn't receive a request to take any action on El Bakraoui.
"No suspicions were known about him" when El Bakraoui landed in the Netherlands, Van der Steur said in the letter, which was posted on the parliament's website late Thursday. "It was not a return from detention nor an escorted return," and El Bakraoui had a valid Belgian passport, he said.
The Dutch parliament had scheduled a debate on the Brussels attacks and the El Bakraoui issue for Thursday evening, but that was postponed to next week.
Before it's here, it's on the Bloomberg Terminal.
LEARN MORE