Belgium Faces Political Crisis Over Failure to Stop Terrorism
by and
Turkish President says Belgium spurned warning about bomber

PM Michel asks ministers to stay on because of war situation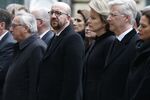 Belgium's government faced a political crisis in the aftermath of the Brussels terror attacks after Turkish President Recep Tayyip Erdogan said warnings in July last year about one of the suicide bombers weren't heeded by the Belgian authorities.
Prime Minister Charles Michel rejected offers to step down from both Interior Minister Jan Jambon and Justice Minister Koen Geens at a meeting of the Belgian top ministers in Brussels on Thursday, Jambon said on commercial broadcaster VTM. A spokeswoman for Geens confirmed Jambon's comments by telephone. The coalition partners called for the establishment of an investigating committee in parliament.
Erdogan told a news conference in Ankara on Wednesday that one of the attackers had previously been caught in Gaziantep, in eastern Turkey, on suspicion of being a foreign fighter planning to cross the border with Syria, and then deported. "Despite our warnings, Brussels authorities let this attacker free,'' Erdogan said.
"In the passing through of information, from Turkey to Belgium but also within Belgium itself, one has proceeded slower than one could have expected," Geens said on VRT television.
"If you put all the facts together, you can put big question marks about a couple of things that happened at the Justice Department and also in the police," Jambon told VTM. "The prime minister has asked me to stay on because of the situation, because you can't leave the battlefield in a war situation."
Before it's here, it's on the Bloomberg Terminal.
LEARN MORE