Arms Spending Spree in Southeast Asia Has Singapore Worried
by and
Greater military cooperation needed, says Defence Minister Ng

Ng says Singapore defense spending to stay largely steady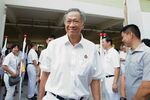 Elevated defense spending in Southeast Asia is a worry as it's not being matched by greater military cooperation, according to Singapore Defence Minister Ng Eng Hen.
Asked if defense outlays in the region caused him concern, Ng replied: "Of course, wouldn't it worry anyone?" Speaking in an interview with Bloomberg News on Thursday ahead of the release of the country's annual budget, Ng said Singapore's own defense spending as a proportion of gross domestic product was "fairly high" and would probably stay around current levels.
Risking being dwarfed by a greater Chinese military presence in the region, particularly the disputed South China Sea, some Southeast Asian nations are boosting their navy and air force and updating equipment that can at times be many decades old and barely serviceable. Large ticket deals being done by countries for submarines and fighter jets are fueling warnings by some defense experts about the prospect of a nascent Southeast Asian arms race.
"Unlike Europe with its history of wars and its antipathy toward such conflicts in the future, Asia doesn't have a historical equivalent of a never again moment," Ng said. "It doesn't have an equivalent of never again should a conflagration arise in Asia, and part and parcel with that our institutions are not very mature."
Lacking Mechanisms
"Military spending in Asia has outstripped Europe in absolute dollars," Ng said. "The last decade was good for Asia," he said. "Basically their militaries are catching up with their economies, they are modernizing their platforms."
Ng, who has held the ministerial post since 2011, said spending needed to be accompanied by more military cooperation. Defense ministers now have a regular meeting under the umbrella of the broader Association of Southeast Asian Nations, but that's only been in place for a decade.
"We don't have the mechanisms and if you look at the South China Sea, that's exactly what is fueling some of the problems, there are no platforms," he said. "It's a simple idea that the more your militaries cooperate and understand one another, yes there is always some strategic and tactical rivalry, but you get the measure of the man, and it helps you calculate and it actually prevents you from making miscalculations."
Singapore's defense spending has largely held in a range of 3 to 3.3 percent of GDP since 2010, and is the biggest chunk of the country's budget each year. On the GDP measure, it outpaces other countries: According to the Stockholm International Peace Research Institute, Malaysia's defense spending was 1.5 percent of GDP in 2014, the Philippines stood at 1.1 percent and Vietnam at 2.2 percent.
China Spending
Leading the modernization effort is China, where defense outlays are projected to increase 7.6 percent to 954.4 billion yuan ($146 billion) this year after a 10.1 percent rise last year. Sipri put China's spending in 2014 at 2.1 percent of GDP.
President Xi Jinping is undertaking a sweeping revamp aimed at unifying the army, navy, air force and a new rocket force under a U.S.-style joint command system, enabling the armed forces to better defend China's sovereignty at home and its growing interests abroad.
There are good reasons for Singapore's defense spending to be fairly high, Ng said.
"If you are a military strategist, if you look at Singapore, it's very hard to defend, we don't have strategic depth," he said. "You make up for it from early warning. Ours is completely a deterrence, we really have no open adversaries, and we believe that deterrence is the strongest defense."
Singapore's defense spending will keep up with inflation, Ng said. "Our goal really is steady defense spending, so that it allows our defense planners as well as our armed forces to really optimize and maximize our systems. We'll keep it that, we'll keep up with inflation and stay about where we are."
Before it's here, it's on the Bloomberg Terminal.
LEARN MORE