Ackman: Pershing Square Gets Senate Inquiry on Drug Prices
by and
Activist says company will cooperate fully with requests

Valeant is one of drugmakers receiving congressional scrutiny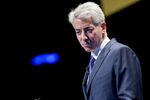 Bill Ackman said his public company, Pershing Square Holdings Ltd., which mirrors the activist's hedge fund holdings, had received a request from a Senate committee looking into pricing of off-patent drugs.
The request was revealed in the company's annual report released Thursday.
In a letter to shareholders accompanying the annual report, Ackman said the request came from the U.S. Senate Special Committee on Aging for the purpose of better understanding "the pharmaceutical industry and related regulatory and public policy concerns."
The company will "fully cooperate with the committee's requests," he said.
Annie Clark, a spokeswoman for committee Chairwoman Susan Collins, didn't immediately respond to requests for comment.
The Senate Special Committee on Aging opened an inquiry into drug prices last year, and sent letters to four drugmakers asking about price increases on their products, and demanding they produce internal documents. Along with Valeant, Turing Pharmaceuticals AG, Retrophin Inc. and Rodelis Therapeutics were all questioned.
While the committee doesn't produce legislation, it has the power to hold hearings and demand that witnesses appear. The House Committee on Oversight and Government Reform has also questioned Valeant and Turing, and held a session in February where representatives from both companies appeared.
Valeant Investment
Ackman this week joined Pershing Square Vice Chairman Steve Fraidin on the board of Valeant, as the drugmaker announced that Chief Executive Officer Mike Pearson would be leaving as soon as a replacement was found.
"Recent events have required us to take a more active role at the company, and our presence on the board will now give us influence over the selection of the new CEO, capital allocation, and strategy," Ackman said in his letter.
Pershing Square, which has a 9 percent stake in Valeant including options, has taken a hit from a sharp drop in the Canadian pharmaceutical company's stock price, which has fallen about 84 percent in the past 12 months after concerns about its pricing practices and a cut in its 2016 earnings forecast.
More than half of Pershing Square's decline in net asset value over 2015 was due to the fall in value of its stake in Valeant, the company said in its annual report.
The company is reviewing its Valeant investment in order to identify where mistakes may have been made and how to avoid them in the future, the report said. 
Defensive Role
"One important lesson from the past is that while we normally use our active investment approach to create value in a new situation, it can also serve in a defensive role, when a business we own encounters severe challenges," it said.
The report disclosed that since just after Valeant's earnings call last week, two members of Pershing Square's investment team have been spending time at the company's offices, to help understand its financial management and "build our own financial model for the company."
Today's report also revealed some details about Valeant's surprise announcements Monday. 
"Ackman attended board meetings as an observer beginning on Thursday and through the weekend, and officially joined the board on Monday morning," the annual report said. "We have been given access to information and to management necessary for us to conduct due diligence and assist the company."
New York-based Pershing Square typically buys large stakes in a handful of big companies it views as trading below intrinsic value, and agitates executives and directors to make changes Pershing Square argues will boost shareholder returns. The public fund, Pershing Square Holdings, began trading in Amsterdam in 2014 with the same portfolio as the hedge fund.
Before it's here, it's on the Bloomberg Terminal.
LEARN MORE