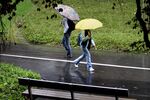 The managers of U.S. college endowments try hard to earn more for their schools than a plain-vanilla portfolio of stocks would. That's never easy, and lately it's been especially tough.
Fifteen endowments that provided Bloomberg with total returns for the second half of 2015 lost 3.6 percent on average. In the same period, the Standard & Poor's 500-stock index earned a slight gain with dividends. While global markets have revived recently, endowments may struggle to make up for lost ground by the time their fiscal year ends in June.
"At this moment in time, it doesn't look like it's going to be a fantastic year," says Tim Jarry, chief investment officer for the College of the Holy Cross in Worcester, Mass. The private college's endowment saw a loss of 4 percent from July through December. Investments contribute to a school's annual operating budget, though schools determine spending based on average returns over a few years.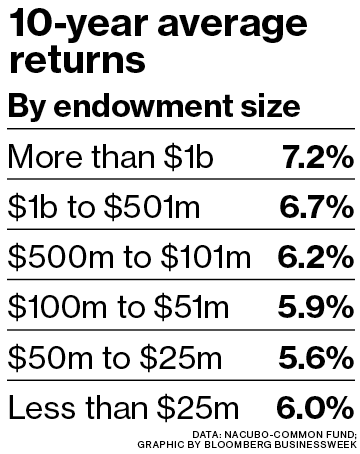 Investments used for diversification were mainly a drag. The $3.1 billion University of Washington fund, down 3.8 percent, was hurt by emerging markets. The University of Iowa, with $1.3 billion, lost 4.6 percent, thanks in part to global bonds and real assets, including natural resources. Hedge funds, which can bet on a variety of securities either rising or falling in value, contributed to the University of California's 2.5 percent loss on its $8.7 billion portfolio.
Endowments have expanded the range of their investments to include not only commodities and hedge funds but also venture capital and private equity, or buyout, funds. This is the Yale model, named for that school's legendary $26.5 billion fund, which has earned a 10 percent annualized return over the past decade. (Yale hasn't reported returns for the latest six-month period.)
Despite this shift, there remains a persistent long-term performance gap between large endowments such as Yale's and smaller ones. Schools with funds of at least $1 billion have earned 7.2 percent annually over the past decade, compared with an average of 6.2 percent for those from $101 million to $500 million. "A one-point difference over 10 years is pretty substantial," says Ken Redd, director of research and policy analysis for the National Association of College & University Business Officers, which helped collect the data. For an endowment starting with $200 million, the difference adds up to $36 million over that time.
Executing the Yale model requires skill, but also relationships with managers of hedge funds and other so-called alternative investments. That makes it hard for other schools to catch up. "You can't go back 20 years and build those relationships," says Karl Scheer, chief investment officer for the University of Cincinnati's fund.
Many of the best alternative portfolios are unavailable simply because they're closed—not taking new money. "There aren't a thousand good buyout funds," says Erik Gordon, a professor of business and law at the University of Michigan. "There aren't a thousand good VC funds. You have to find them, and you have to get in. The playing field tilts toward the endowments that are the biggest and the ones that got into alternatives early."
It doesn't help that hedge funds often come at a high cost. On top of annual fees of about 2 percent, funds may take a share of any profits earned.
The investment policy at Muhlenberg College's $257 million endowment calls for 20 percent of assets in hedge funds. Kent Dyer, the endowment's chief business officer, isn't sure whether that strategy has paid off. Over a decade, the endowment has earned an annual 5.7 percent, vs. 6.2 percent for those of similar size. "I can remember years back, all the finance and investment committee discussion before dipping into hedge funds," he says. "Are these higher-fee vehicles doing us any favors?"
The bottom line: College endowments face low returns in the short run. In the long run, there remains a big gap between haves and have-nots.
Before it's here, it's on the Bloomberg Terminal.
LEARN MORE