World's Banks Targeted by Expanding U.K. Startup GoCardless
by
Payments specialist targets big business, North America

Notion Capital leads venture firms in latest investment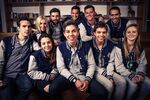 U.K. fintech startup GoCardless wants to take its 'bank-to-bank' payment network to North America and the world, and has raised new venture capital to help it do so.
The firm, which helps companies collect pre-authorized payments from customer bank accounts, said it now processes about 1 billion pounds ($1.4 billion) of payments annually from more than 16,000 merchants across the six countries it operates in: the U.K., France, Germany, Spain, the Netherlands and Sweden.
Hiroki Takeuchi, GoCardless's co-founder and chief executive officer, said in an interview that the company has raised $13 million in funding to go after bigger business clients. It also plans to expand into two to four additional markets this year, with Canada a top priority, and take its headcount from the current 75 to between 100 and 120. The company is also looking at the U.S., Australia, Japan and Brazil, he said.
Although it declined to reveal its latest annual revenue figures, GoCardless says its billion-pound-a-year business makes it the U.K.'s largest provider of "direct debits," as they're referred to in Britain.
Bigger Businesses
GoCardless, founded in London in 2011, was originally targeted at smaller businesses that wanted to easily set up recurring payments for their customers. But the company has increasingly attracted bigger businesses to its service, Takeuchi said.
"Larger companies are used to taking these kinds of payments but they have used quite antiquated legacy systems to do it," Takeuchi said. GoCardless's selling point is that its system is designed to work online, with no paper forms to fill out and mail in as with most existing systems. GoCardless can sync directly with a business's customer relationship software, for instance, alerting it if a payment fails.
Significantly, GoCardless also allows a business in one country -- such as the U.K. -- to collect recurring payments from a customer's bank in another country, such as Spain. This is something most existing direct debit processors can't do.
"Because banking systems are very geographically focused, moving funds between banking systems is very difficult," Takeuchi said. He said GoCardless essentially builds a layer on top of existing financial infrastructure allowing them to interact seamlessly.
The company makes money by taking a small percentage fee from the originating merchant on every transaction. The amount varies according to volumes, Takeuchi said.
Subscription business models have become increasingly popular for companies as diverse as software providers and coffee delivery services. That's the main reason London-based Notion Capital, the venture capital firm leading this funding round, wanted to invest in GoCardless, Stephen Chandler, Notion's managing partner, said in a press release. Notion Capital's portfolio is focused on business-to-business and subscription-based software companies.
In addition to Notion, participating in this funding round were Accel Partners, Balderton Capital, and Passion Capital, all of which are London venture funds that had previously invested in GoCardless. The company had also received earlier support from Y Combinator, the well-known startup accelerator program. Wednesday's funding round brings the total amount GoCardless has raised since its founding to $25 million.
Before it's here, it's on the Bloomberg Terminal.
LEARN MORE