Venezuelans Voted for Big Change But Maduro Stymies Opposition
by
Four months after landslide electoral victory, little changed

Supreme Court, filled with pro-government judges, blocks moves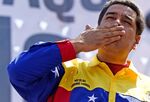 Legislators were livid, howling during last week's debate. 
QuickTake Venezuela's Revolution
"This decree is not necessary!" yelled Congressman Simon Calzadilla, a top opposition legislator, in a typical statement against a bill prolonging emergency rule. President Nicolas Maduro, he added, must not be allowed to extend his unconstitutional use of such power. Venezuela had voted for change in December, and change it would get.
The vote was overwhelming -- two-thirds against the extension. Permission denied.
Hours later, the Supreme Court, stacked with justices appointed at the last minute by the ruling socialists, overruled Congress: Maduro's emergency powers were extended.
So it goes four months after an overwhelming opposition victory in Venezuela once widely seen as heralding the end of Chavismo, the 17-year leftist revolution that has helped bankrupt this once-wealthy nation. The victors debate. They vote. Almost nothing changes. 

Hope to Exhaustion
Maduro seized the levers of power both before and after his party's electoral defeat. As the country observes a government-ordered week off to save electricity, hope has yielded to exhaustion.
"There is a difference between electoral power and political power," said Dmitris Pantoulas, a Caracas-based political consultant.
Luis Vicente Leon, head of the pollster Datanalisis, added that the opposition "can't carry out its constitutional duties because of the government's complete and absolute control over all other institutions."
Triple-digit inflation and rampant shortages of consumer basics helped propel Venezuela's opposition to a landslide victory in last year's congressional elections on a platform of sweeping change. Three months into its mandate, however, it has been outmaneuvered.
Court Packing
Before the new legislators, filled with ambitious plans, took their seats, the outgoing congress appointed more than a dozen Supreme Court justices loyal to the socialists. The high court has since blocked congress' decisions and limited its oversight -- preventing it from changing the makeup of the court itself.
Seeing their legislative powers neutered, Maduro's opponents sidelined hopes of reaching an accord with the government, doubling-down on efforts to remove the president before his term ends in 2019. This involves several simultaneous efforts: amending the constitution to shorten his term, triggering a recall referendum and reigniting a wave of popular protests to pressure to president to resign.
Political commentators are skeptical that any of the mechanisms will gain traction, saying the government is quite capable and determined to stop them.
"There is no possibility, not even a remote one," wrote Eduardo Semtei, a columnist for El Nacional newspaper and former vice president of Venezuela's electoral authority. "No one digs his own grave."
Oil Price Rise
Even bets that the rout in oil prices could lead to political change with government revenue shriveling and bonds trading near default levels have gone awry. Crude, the country's central source of income, has surged 35 percent in the past six weeks to about $40 a barrel, providing Maduro's administration some relief.
Maduro has also been aided by a lack of coordinated response from his opponents split by old, festering divisions.
"I see the opposition paralyzed by internal political games, the competition for leadership," said Angel Alvarez, a political scientist at the Central University of Venezuela. Individual parties and actors are each focusing on specific mechanisms rather than blanket change, he said. 
Limp Demonstrations
The opposition contends that any single strategy would be promptly struck down. But by pursuing several at once, it risks further dividing an already fatigued electorate. Anti-government protests over rising crime and declining consumer staples rocked Venezuela for months in 2014. Yet calls to take to the street earlier this month aroused little more than a shrug as many recalled that earlier demonstrations resulted in 43 deaths, the arrest of dozens and a widespread crackdown on dissent.
"Everything that comes is worse than before," sighed Alexis Sequera, a 60-year-old retired banker. "These days it seems people would rather spend their time finding food."
The Maduro government's next test is a governor's elections on a yet-to-be-announced date this year. Many see the president playing a long game, trying to reverse the opposition's tide and ultimately winning over a disillusioned electorate. And some say he is off to a good start.
"For the government," said Pantoulas, "every day is a victory."
Before it's here, it's on the Bloomberg Terminal.
LEARN MORE