Valls Visits Brussels Amid French-Belgian Bickering on Terror
by
Sapin criticizes Belgians for being `naive' in face of threat

Reynders says France, Belgium must look issue in face together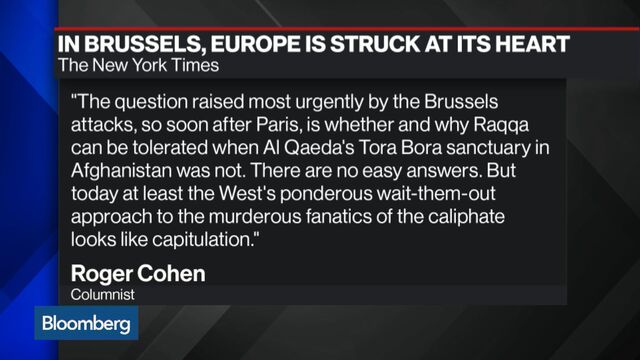 French Prime Minister Manuel Valls laid a wreath with his Belgian counterpart, Charles Michel, in Brussels to pay respect to the victims of Europe's most recent terrorist attack, in a ceremony that belied increasing tension beneath the surface between their two governments on how to deal with the threat of terrorism.
After at least 35 were killed in attacks in Brussels on Tuesday, French Finance Minister Michel Sapin blasted Belgian authorities for being "naive" in dealing with the nation's Muslim minority, notably in the Molenbeek district of Brussels. Belgium had the idea that "to promote better integration, you have to let communities develop," Sapin said on LCI television. Belgian Foreign Minister Didier Reynders responded by calling on France and Belgium to "look the issue in the face together" including in "French suburbs."
The squabble underlines the difficulty of coordinating the anti-terror effort among allies, as well as the question of how to deal with home-grown extremists across Europe. Valls, who meets with European Commission President Jean-Claude Juncker for lunch in Brussels before seeing Michel, said on Wednesday that governments across Europe have been in denial about the extent of the threat.
"Everywhere in Europe, including in France, we have closed our eyes to the progression of extremist Salafism in the neighborhoods that mix drug trafficking and a radical, perverted Islam," Valls said on Europe 1 radio. "I'm not here to give lessons to the Belgians," he added.
France expects the captured suspected Salah Abdeslam, who was arrested last week in Brussels for his involvement in the attacks that killed 130 in Paris in November, to stand trial in France, Valls said. Abdeslam, believed to be the sole surviving participant of the November massacre played a key role in planning the three-pronged attack, and has told authorities that he was due to blow himself up during it before changing his mind, according to the Paris prosecutor.
When asked if Tuesday's attacks in Brussels were linked to Abdeslam's capture on Friday, Valls said, "I don't know, there are obviously striking coincidences."
"No doubt penalties for terrorism need to be made even heavier," he said.
Before it's here, it's on the Bloomberg Terminal.
LEARN MORE