Tsinghua's Zhao Touts $30 Billion Arsenal on Path to Chip Giant
Bloomberg News
Memory semiconductors to be a focus as processors ruled out

Tsinghua turning to local governments in China to raise funds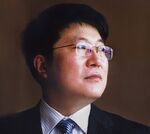 Zhao Weiguo wants to create China's first giant in the global semiconductor industry and has a $30 billion investment plan to do it.
The billionaire president of Tsinghua Unigroup Ltd. is focusing his aspirations on memory chips and remains undeterred even as overseas regulatory hurdles threaten to stymie some of his deals. Raising funds from local governments, investors and private equity will fill his arsenal to take on foreign giants such as Samsung Electronics Co.
"Capital is the most loyal and cruel thing in the world," Zhao said in an interview in Beijing. "It chases after you when you can make money and abandons you as soon as you cannot."
Memory for devices spanning mobile phones and computers, an area led by Samsung, SK Hynix Inc. and Micron Technology Inc., could generate $20 billion of sales for Tsinghua as the business is scaled up, according to Zhao.
Closely held Unigroup had sales of 52 billion yuan ($8 billion) last year with an after-tax profit of 3.9 billion yuan, according to the company. In its chip design business, profit was
$200 million on sales of 13.5 billion yuan.
Local Governments
China has been trying to free itself from a heavy reliance on foreign technology, with semiconductors seen by the nation's political leadership as vital to national security.
The 49-year-old and his business empire are emerging as a candidate to achieve that. Zhao is planning to raise as much as $15 billion by the end of 2016 to fund his spending program, with the source of funds evenly split between local governments, private placements and buyout funds. The money will be used for deals and building production capabilities.
"It's a hard business doing memory, with huge investment, slow returns and high risks," said Gu Wenjun, chief analyst at iCwise, a Shanghai-based consulting company. "I suggest Unigroup takes it cautiously. Before finding cooperation partners and sources of technology, it should be cautious."
Unigroup is just one of a number of affiliates of state-backed Tsinghua University, the prestigious Beijing school that has produced Chinese leaders, including President Xi Jinping and his predecessor Hu Jintao. Other arms include Tsinghua Unisplendour Co. and Tongfang Guoxin Electronics Co.
74-Hour Journey
Zhao's relationship with his alma mater stretches back three decades, when enrolling required a 74-hour train journey from his home in remote Xinjiang region, where his family raised pigs and sheep. He draws a clear distinction between his business and the bloated state-owned enterprises his companies are often compared to.
"People call us an SOE sometimes but it's a sort of misunderstanding. Real SOEs could get lots of support from government," Zhao said. "We make money totally by ourselves in the market."
In tandem with the emphasis on memory, Zhao has ruled out pushing into markets such as processor chips, which would take Unigroup into competition with its partner Intel Corp. He has also crossed off the potential to start contract production where it would compete head-to-head with outsourcing pioneer Taiwan Semiconductor Manufacturing Co.
Deal Making
Qualcomm Inc., which has a market value of more than $70 billion, is probably off limits too, the billionaire said.
"Qualcomm is too big and the U.S. government would never approve that."
Tsinghua University founded what later became Unigroup in 1988, acting as an investment arm of the college. Tsinghua University's Global Business Journalism Program is supported by Bloomberg News.
In a 2010 privatization, a firm controlled by Zhao became Unigroup's second-biggest shareholder after the university.
From a childhood in Xinjiang, a region closer to Kabul than Beijing, Zhao paid his way through college by fixing televisions and writing computer software. He is now a billionaire and his deals, including some that failed, have generated international headlines as he seeks to build Tsinghua's capabilities in chips, an industry where China lacks a global player.
Taiwan Obstacle
While Tsinghua bought RDA Microelectronics Inc. and Spreadtrum Communications Inc., and agreed to sell a 9 billion yuan stake in itself to Intel, a potential $23 billion bid for Micron never materialized. Plans for a $3.8 billion investment in Western Digital Corp. were scrapped last month amid a U.S. security review and investments in three Taiwanese chip companies face regulatory obstacles and have stoked political tension between China and the island, considered by the mainland to be a renegade province.
"The main trouble we got is from the Taiwan side," Zhao said. "They are very reluctant to receive funding from mainland China, and the trade agreement and policies between Taiwan and mainland are not balanced."
Talent Search
Despite ongoing tensions between China and the U.S., Zhao expects a deal with another giant of Silicon Valley to go through. Tsinghua has been cleared to buy Chinese networking and server businesses H3C from Hewlett Packard Enterprise Co. after it was approved by the Committee on Foreign Investment in the United States earlier this year, he said. HPE this month said it expects to get about $2 billion of cash from the deal, which it expects to close by May.
To complement its deals, Tsinghua plans a memory plant in China as it also hires the talent needed to build the business. For now the focus is on chip design for mobile phones and smart cards, helped by the Spreadtrum and RDA deals, before moving into manufacturing.
"China has lots of excellent engineers and they like this sector. In the US, the most talented engineers are working at software companies and Internet companies," he said. "China's huge local market, with huge demand for chips, is also a very important reason."
— With assistance by Haixing Jin
(
Corrects company revenue and profit in fifth paragraph.
)
Before it's here, it's on the Bloomberg Terminal.
LEARN MORE