Trudeau Tackles Economy Head on With C$120 Billion Deficit
by and
Liberals target infrastructure, middle class for spending

Morneau says budget can be balanced in five years on growth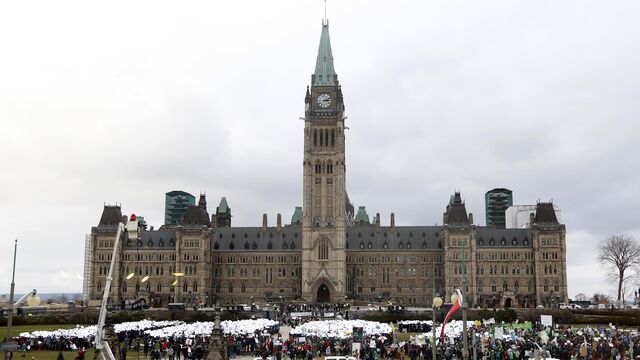 As an opposition lawmaker in Canada's parliament seven years ago, Justin Trudeau criticized former Prime Minister Stephen Harper for making government "totally absent from the defining issues of our time."
In his first budget as prime minister released Tuesday, Trudeau put the federal government back at the center of the nation's economy with almost C$120 billion ($92 billion) in accumulative deficits and the biggest jump in spending since the 2009 recession.
Canada is ramping up benefits to just about everyone -- veterans, unemployed, aboriginals and families -- allocating billions more in infrastructure, topping up funding for climate change initiatives, raising taxes on the rich, and cutting taxes for everyone else.
The final outcome will be spending levels, and deficits, not seen in decades outside of the 2009 recession, all to wide acclaim from investors and stakeholders looking for new ways to kick start an economy rattled by an oil shock.
"The launch of a new governing party, and an equally significant shifting in the economic winds, has the federal budget making a sharp change in tack, with stimulus and redistribution becoming the key themes," Avery Shenfeld, chief economist at CIBC World Markets, said in a note to investors.
The budget is chock-full of red. Trudeau will run deficits of C$29 billion over the next two years with no forecast to balance the books over the next five years. About C$50 billion of the accumulative deficits are due to new measures and the rest reflect the impact of a worsening economic outlook. Canada will issue C$133 billion in bonds this year in part to finance these deficits, 30 percent above the previous record set in 2009 after the global recession.

Within just a few months, Canada has gone from being one of the world's most fierce advocates of fiscal discipline to one of the most vocal advocates for deficits.
"This could be a test case for the rest of the world. People will say: 'Look
at what Canada did,'" said Darcy Briggs, a portfolio manager at Franklin Bissett Investment Management in Calgary. "If it works, then maybe these ridiculous negative interest rate experiments will end. You'll get a normal rate of interest, and the federal coffers will actually start to be better utilized."
Annual program expenses are projected to grow by C$52 billion in five years, 10 times the increase for the previous five years. As a share of gross domestic product, program expenses will rise to 14.6 percent in 2017, levels that in 1995 were deemed too high to be sustainable.
Trudeau, swept to power in October, had faced calls from some economists for even more new spending to take advantage of interest rates that are near historic lows as monetary policy loses its bite. While the measures detailed Tuesday are forecast to give the economy a 0.5 percent bump in 2016, the Liberals steered clear of loftier deficits.
Not Doubling Down
"For those looking for the government to double down on earlier stimulus pledges, they will be disappointed," National Bank Financial Economist Warren Lovely said in an interview. "It's stimulus on a modest -- to at most moderate -- scale. This isn't shock and awe fiscal stimulus."
The government decided to provide some element of discipline, largely by keeping debt to GDP within striking distance of current rate of 31 percent. What's more, the budget builds in a cushion of C$6 billion a year to account for risks that growth fails to meet forecasts, with the government projecting that revenue will actually fall this year. In post-budget interviews, both Morneau and Trudeau have been arguing that if the stimulus impact kicks in as expected and economy outperforms, the deficits could be shaved accordingly, making it easier for the government to return to balance.
"We want to get back to a balanced budget," Morneau said in an interview with Bloomberg TV Canada's Danielle Bochove. "We think with the growth that we can see, that we can get there in about five years or so."
Morneau repeated the five-year reference at a press conference in Ottawa Wednesday morning. Still, the main message from the fiscal plan remains that there is a need to run deficits in order to invest in the nation's economy.
It's a change in thinking that reflects the economic angst of a country that was an economic juggernaut not too long ago, emerging from the 2009 recession as one of the most robust economies in the western world. Growth in government revenue helped fuel the tax cuts and fiscal consolidation that marked the tenure of the previous Conservative government.
Oil Shock
The collapse in oil prices is now adding to the appeal of more activist federal government and the income redistribution championed by Trudeau.
The economy is expected to post its second-straight year of sub-2 percent growth in 2016, or about 1.4 percent. That would mark only the third time the country has recorded back-to-back years of sub-2 percent growth since the end of World War II.
Trudeau is clearly playing on that anxiety. Morneau's budget begins with an anecdote about a fictional couple -- David and Neera -- struggling to get ahead. It points out that the wealthiest Canadians have done much better than them.
"Canadians understand that a country can't cut its way to prosperity," according to the budget. "The government understands that hard work alone is not enough. A new approach -- one that includes smart investments and fair choices -- is needed."
Child Benefits
The cornerstone of Trudeau's budget is an overhaul of child-benefit payments, with a net cost of C$4.5 billion in 2016-17, which the government expects will lift 315,000 children out of poverty in what Morneau called the "most significant social policy innovation in a generation." Canada will also provide C$8.4 billion over five years in new funding for its indigenous communities.
Trudeau has also pledged C$4.6 billion over three years -- including C$3.7 billion that the budget books in the fiscal year that ends March 31 -- in new funding for war veterans. The budget projects more than C$11 billion in new cash for infrastructure over the next two years.
The Liberals, who suffered their biggest ever electoral defeat in 2011 only to come back last year, are seeking to make federal government relevant again.
"This is huge stimulus, considering the economy is not in recession," said Philip Cross, a former chief economic analyst at Statistics Canada now at the Macdonald-Laurier Institute. In his view, it's too much borrowing considering the global economic risks. "Can we afford to do this all at once?"
Before it's here, it's on the Bloomberg Terminal.
LEARN MORE