The Five Biggest Stars of This Year's New York Auto Show
Nissan's "Godzilla" and a pack of slick SUVs make their debut in the Big Apple.
by
In the universe of international auto shows, Detroit's annual rollout is the industry's hottest ticket; the fanciest cars are unveiled in Geneva; and the wacky, high-tech numbers steer for Los Angeles. But this year the stars seem to be aligning for car lovers on Manhattan's West Side.
Because of the vagaries of product planning and the gamesmanship that goes into model reveals, there's a slate of exciting new stuff premiering at the Big Apple's Javits Center this week. We talked to a bunch of carmakers and auto analysts to see what we can expect. These are the five most important—and most exciting—rides coming your way:
1. Acura MDX (2017)

Acura's big SUV is still its best-seller in America, but it's been fading fast. Last year, MDX sales slid 11 percent, though it still managed to edge out BMW's X5. The Germans, however, aren't about to ease up on their siege of the swanky SUV segment, as they continue to roll out family trucks in various shapes and sizes. For Acura to stay in the game, it needs the newest MDX to be a big seller.
2. Nissan GT-R (2017)

It's difficult to overstate the cultish devotion the car world has for Nissan's GT-R. It's known simply as Godzilla to a wide swath of drivers—from drifters in Mitsubishi compacts to the Ferrari sheikhs of Dubai. Nissan's GT-R has been, perhaps more than any other vehicle, the apotheosis of the so-called halo car: a ridiculously advanced vehicle created as bait for the brand's more pedestrian offerings. Godzilla has grown creaky, though. On stat sheets, it regularly gets knocked around by the latest monsters from Maranello and Stuttgart. Nissan needs a new beast to bust up the streets. Lots of little Altimas and Maximas hang in the balance.
3. Lincoln Navigator (2017)

When in doubt, build a giant SUV. While American luxury still struggles to keep pace with the world's fanciest sedans and coupes, those with means trust Detroit when it comes to trucks. The spoils, though, have been going to General Motors Co. Cadillac sold three Escalades for every one of Lincoln's Navigators last year, with Texas-size profit margins no less. Ford Motor Co.'s blue-blood brand can't be happy about that.
4. Toyota Highlander (2017)

Toyota Motor Corp. will be trying to spoil Lincoln's party, of course. The Highlander isn't luxury per se, but it's grown quite a bit more plush over the years. Like any contemporary 17-year-old, it requires lots of screens and plugs and Wi-Fi. TrueCar analyst Eric Lyman expects the new Highlander to pick up some of the aggressive design cues we've seen in the newest Prius and Lexus models. What says "sports car" like seating for seven?
5. Subaru Impreza (2017)

Subaru has only one problem these days: It can't make enough cars. Customers clamor for its Forester and Outback SUVs, which are nestled in the garden spot of the car market: safe, spacious, fairly luxurious, and fairly affordable. The Impreza, Subaru's compact hatchback, isn't as critical. But the new one we'll see this week will be the first car equipped with the company's new platform, which will eventually be the foundation for every model in the lineup. Subaru also promises a new design language that will trickle through the brand. The pitch? "It's everything you love about a Subaru in a striking new package."
While these five are the ones to watch at the New York show, as always, be on the lookout for wild cards 1 Like the 2017 Pontiac Aztek! I joke. The chatter is Hyundai's Genesis brand has a show-stopping new sedan -- albeit a concept car -- and Honda may show a hatchback Honda Civic to corner the Millenial market. .
Watch Next: Ford Hopes New Navigator Recharges Luxury Sales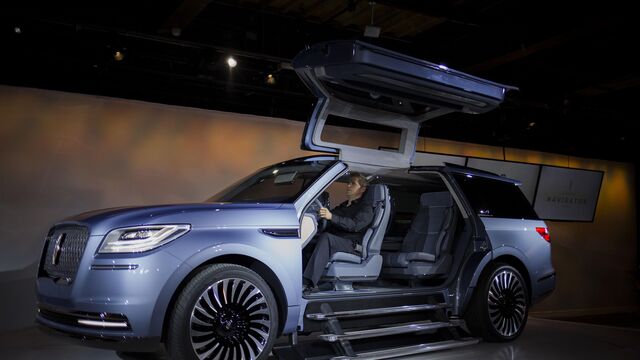 Before it's here, it's on the Bloomberg Terminal.
LEARN MORE