Five Things You Need to Know to Start Your Day
Get caught up on what's moving markets.
by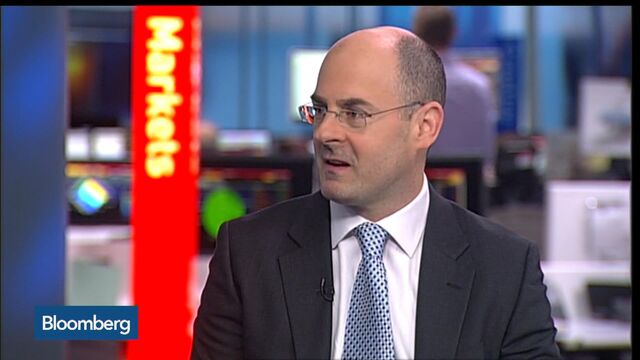 Want to receive this post in your inbox every morning? Sign up here
There's a shake up at Credit Suisse, stocks rise, and spoils are shared in presidential primaries. Here are some of the things people in markets are talking about today.
Credit Suisse cuts
Credit Suisse Group AG announced in a statement this morning that it is targeting deeper cost cuts at its securities unit and is set to eliminate a further 2,000 jobs, as Chief Executive Officer Tidjane Thiam forecast another loss in the first quarter. Shares in the bank, which had fallen about 33 percent this year, were 2 percent higher at 9:55 a.m London time. Job cuts are not the only concern for Credit Suisse as it faces criminal accusations from three clients, alleging it played a role in a fraud which already sees a former wealth manager in prison awaiting trial. 
Markets
Stock markets in Asia retreated overnight with the MSCI Asia Pacific Index down 0.7 percent and China's Shanghai Composite Index one of the few national benchmarks to put in a gain for the session, closing 0.4 percent higher. In Europe, the Stoxx 600 Index is 0.4 percent higher in thin trading. S&P 500 futures are flat. Overall, however, the recent rebound from January's plunge means 28 of the world's 63 major stock indexes are now in bull markets, with another 10 poised to join them.
Commodities
The U.S. dollar is strengthening for a fourth day and commodities are slipping, with oil futures retreating 38 cents to $41.09 a barrel in trading on the New York Mercantile Exchange at 10:20 a.m. London time. The International Energy Agency is warning that an oil shock may be around the corner as the recent price bust has hammered investment in future supply. "There's danger as we are reaching a point where we are barely investing upstream," Neil Atkinson, head of the IEA's Oil Industry and Markets Division, said at an event in Singapore on Wednesday. There are few signs of an oil shock so far, however, as a Bloomberg survey showed a continued build in crude stockpiles.
Brexit worries
The referendum on the U.K.'s membership in the European Union is exactly three months away and staff at the Bank of England are becoming concerned over the dangers the vote poses. Former EU Commissioner Peter Mandelson warned that Brexit campaigners are putting politics above the economy, while London Mayor Boris Johnson insists the city's finance industry would "flourish mightily" outside the EU.
Spoils shared in primaries
Donald Trump and Ted Cruz each took one victory in the two Republican presidential contests yesterday while on the Democratic side Bernie Sanders dominated in Utah and Idaho while Hillary Clinton took the Arizona primary. For the Republican candidates, the pace of voting now slows down with only Wisconsin between now and the New York primary on April 19. 
What we've been reading 
This is what's caught our eye over the last 24 hours.
Before it's here, it's on the Bloomberg Terminal.
LEARN MORE